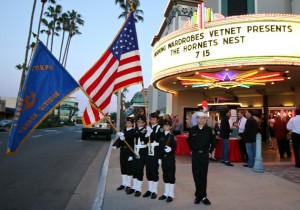 Lido Live recently hosted a documentary movie called "The Hornet's Nest" about a father and son news team reconnecting in war-torn Afghanistan. This movie brought together Working Wardrobes, a nonprofit that most associate with abused women, a Veteran's organization called VetNet, and Plaza Bank.
As you would expect, it was patriotic and heartfelt, and documented both the reunion of Michael and Carlos Boettcher as well as showing the real-life horrors of war. It also profiled with great solemnness, the brotherhood of man and especially of brothers in arms in the armed forces.
Harry Humphries, executive director of VetNet, a division of Working Wardrobes, and former Navy SEAL, was an emcee along with Working Wardrobe's Executive Director and Founder, Jeri Rosen.
"Working Wardrobes started as an event for 67 women in 1990, providing makeup, wardrobe, and counseling to get jobs," said Rosen. "Everyone loved it so much we did it over again."
Since then they expanded to helping men, then young adults, and once again to helping veterans. "We want to catch those in transition and potential homeless vets, and prevent them from becoming homeless through counselling and job training. Their numbers are impressive as 80 percent of those through the program employed have been employed," said Humphries.
The last piece of the puzzle is Plaza Bank, which proudly claims that 10 percent of their workforce are veterans. CEO and President Gene Galloway, also a former Marine, was there to present the film. They sponsored the free event as a gift to the community as well as the filmmakers.