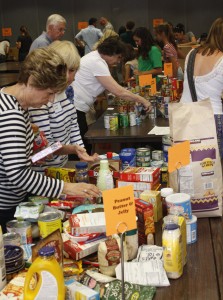 On Sunday, May 3, hundreds of St. Andrew Presbyterian Church parishioners and community members joined forces for a "food pantry packing party" to assemble thousands of pounds of food into bags and boxes for Orange County's homeless families.
The packing event at St. Andrew's also marks the official kickoff of the church's "Welcome Home" campaign, a five-year partnership with Project Hope Alliance.
During the family-friendly service day, parents and children worked side by side packing hundreds of bags and boxes for Project Hope Alliance's food pantry.
"I can't believe how fast all the food was packed," said Project Hope Alliance CEO Jennifer Friend of Newport Beach. "Everyone helped, from small children to seniors."
During the event, families also learned how they can help end homelessness, which affects 32,000 people in Orange County alone.
After the packing party, volunteers enjoyed a community carnival celebrating St. Andrew's and Project Hope's growing partnership.
On Friday night, Project Hope alliance held a fundraising party called Ending Homelessness in our Own Backyard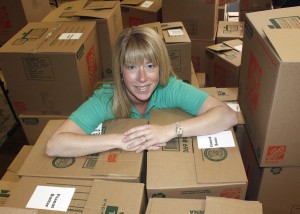 at the Boathouse Collective, a restaurant and event space, in Costa Mesa (about a block from Newport Beach).
Guests enjoyed local culinary creations including a donut bar, a live performance by The Tijuana Dogs, and live and silent auctions. Boathouse Collective's creative, eclectic space, inspired by the hand-crafted wooden ships from the golden age of Costa Mesa's nautical industry. The event raised several thousand dollars.
Project Hope Alliance seeks to end the cycle of homelessness in Orange County by providing homeless children with the unique tools and opportunities they need including housing, educational support and family stability. Project Hope Alliance serves more than 400 children who attend 90 schools in 24 cities throughout Orange County.
Visit ProjectHopeAlliance.org for more information.