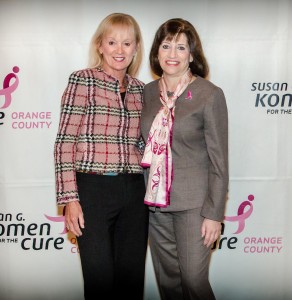 Susan G. Komen Orange County awarded more than $1 million to 16 Orange County breast health projects at its annual Grants Award Breakfast at the Island Hotel in Newport Beach.
Susan G. Komen's new president and CEO, Dr. Judith A. Salerno, delivered the keynote speech, which focused on the national organization's mission to move forward with energizing science for the cure and providing underserved women and men with quality care.
"This event demonstrated how Komen helps women in the community and in breast cancer research worldwide, and it is so rewarding to celebrate the breast health programs we fund through a broad range of local organizations reaching diverse and underserved populations," said Komen Orange County Executive Director Lisa Wolter. "I love hearing attendees say they learned new information about our Affiliate's special initiatives reaching Latinas and helping uninsured women get diagnosed and into treatment."
For more than 20 years, deserving community organizations throughout Orange County have used Komen grants in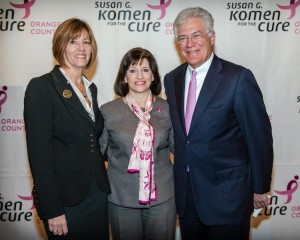 collaboration with clinics and hospitals to offset the high cost of diagnostic breast health services. The grants benefit uninsured and underserved Orange County residents and help to impact cultural and ethnic disparities in breast cancer mortality locally. These nonprofit recipient groups serve diverse populations and provide access to care throughout Orange County in an effort to save women and men's lives.
The 2014 Komen Fund for Breast Health Care and community grants recipients are AltaMed Health Services, Breast Cancer Solutions, Central City Community Health Center, Hurtt Family Health Clinic, Inc., Laguna Beach Community Clinic, Latino Health Access, Nhan Hoa Comprehensive Health Care Clinic, Orange County Asian and Pacific Islander Community Alliance, Planned Parenthood of Orange and San Bernardino Counties, Serve the People Community Health Center, Share Our Selves, Vietnamese American Cancer Foundation, and YWCA of North Orange County.
For more information on Susan G. Komen Orange County, visit komenoc.org or call (714) 957-9157.