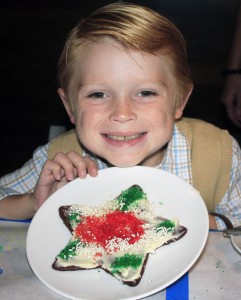 The new Lark Creek Restaurant in Fashion Island invites guests to give back this holiday season with the restaurant's inaugural "Gingerbread Wishes" celebration.
Throughout November, guests can order star-shaped, fresh-baked gingerbread cookies off the dessert menu for $10 each, with 100 percent of the proceeds benefiting Make-A-Wish Orange County and the Inland Empire.
The cookies can be decorated with frosting, sprinkles, and candies, and enjoyed while dining, taken home in a decorative bag, or given as a festive holiday gift or party favor.
"Gingerbread Wishes is a wonderful event and we are thrilled to partner with Lark Creek Newport Beach to bring it to Southern California,"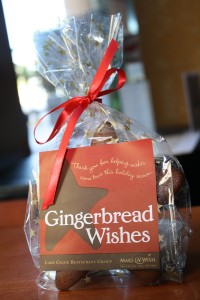 says Stephanie McCormick, president and CEO of Make-A-Wish Orange County and the Inland Empire. "It brings joy and delight to children and adults alike, which is what we strive to do every day by granting wishes to children with life-threatening conditions and their families. Lark Creek Restaurant Group understands the power of a wish."
Held at Lark Creek Restaurant Group restaurants in Northern California since 2007, the Group has now raised more than $120,000 through the annual Gingerbread Wishes campaign. Lark Creek Restaurant Group was inspired to work with the organization after an employee's niece, suffering from leukemia, was granted a wish through Make-A-Wish for a garden in her backyard to look at through her bedroom window.
"Charity is a priority for our Group, that is why we created Gingerbread Wishes and we are delighted to have the opportunity to bring the event to our first Orange County restaurant," said Lark Creek Restaurant Group Co-Founder, President and CEO Michael Dellar. "This is our seventh year working with Make-A-Wish, and it is extremely rewarding to be able to put together a program that directly benefits children in each of our communities. We were so excited to reach the milestone of $120,000 in giving last year, and hope to see all of our Orange County guests decorating cookies this November."
For more information, visit larkcreeknb.com.