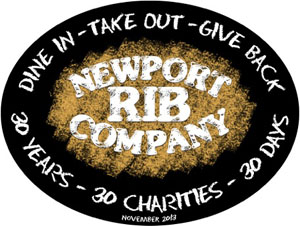 Newport Rib Company celebrates its 30-year anniversary in November by donating 20 percent of all dine-in and take-out sales to 30 local and national charities.  The program runs November 1- 30, 2013 at both Newport Rib Company in Costa Mesa and at the family's second location, Naples Rib Company in Long Beach.
"As a family run business, we're thankful our community has dined with us so faithfully over the years, enabling us to celebrate our 30th anniversary," says John Ursini, co-owner of Newport Rib Company. "Giving back to the community that has supported us for three decades is the right thing to do."
A broad range of charities, including those serving children, veterans and animals, benefit from the donations. Restaurant guests select which of the 30 charities they'd like to allocate 20 percent of their order to when they dine in or order take out during November.
At the conclusion of the month long campaign, the featured charities will be invited to attend a check presentation ceremony. Newport Rib Company and Naples Rib Company expect to donate more than $40,000 by the end of November.
Among the charities:
Environmental Nature Center: Founded in Newport Beach in 1972, Environmental Nature Center is a fascinating combination of native plant communities, wildlife habitat, walking trails, and a sustainably designed learning center that serves over 20,000 students and thousands of visitors annually.
Movember, Team Nuclear:  The global men's health charity encourages men to grow and women to support the Mo (moustache). Funds are raised for men's health to combat prostate and testicular cancer. Team Nuclear was founded by Newport Beach resident John Cornuke.
Share our Selves: SOS provides comprehensive safety net services to the Orange County community. Rib Company owner John Ursini and his wife Kathy, who live in Newport Beach, have recently taken guardianship of a 14-year-old boy whose parents are homeless.  They have been assisted in the process by SOS.
Other charities include Susan G. Komen OC, Wounded Warrior Project, and Surfrider.
For more information about Newport Rib Company's 30 Days of Charity, go to ribcompany.com.