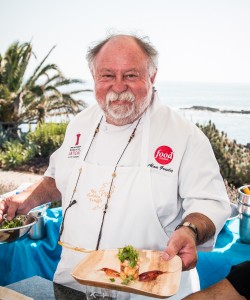 On Sunday, June 8, several hundred guests descended on Montage Laguna Beach to enjoy cuisine created by celebrity chefs from Orange County and Los Angeles at the annual Taste of the Nation culinary event benefitting No Kid Hungry.
The event raised more than $200,000 for No Kid Hungry, whose goal is to end childhood hunger in America.
The funds raised at the event will help feed kids in need up to 200 million healthy meals and will support No Kid Hungry's work to ensure all children in this nation have the healthy food they need.
Local beneficiaries include Second Harvest Orange County Food Bank and Community Action Partnership of OC.
The event, hosted by Montage Laguna Beach, featured chefs Craig Strong (Studio, Montage Laguna Beach), Lee Smith (Montage Laguna Beach), Ludo Lefebvre (Trois Mec), Alan Wong (Alan Wong's Restaurant's), Nina Compton (Scarpetta Fontainebleau), William Bradley (Addison), David Coleman (Chianina Steakhouse), Brian Huskey (Formosa Café), Alan Greeley (The Golden Truffle), and Greg Daniels (Haven Gastropub), and many others.
In addition to fabulous food and drinks, the event featured a silent and live auction, live entertainment by local band The Kalama Brothers, and a special appearance by Dara "The Bow Girl" (Masterchef Junior USA).
Since the campaign's launch, No Kid Hungry and its partners have connected kids struggling with hunger with more than 107 million additional meals. In California, No Kid Hungry is focused on expanding access to school breakfast, free meals in the summer and afterschool meals. The campaign has also empowered more than 5,600 California families with the skills, knowledge and confidence to prepare healthy, affordable meals through Cooking Matters.
One hundred percent of ticket proceeds from Taste of the Nation Laguna Beach benefit No Kid Hungry thanks to generous support from National Presenting Sponsor Sysco and national sponsors American Express, Food Network, OpenTable, Sparkling Natural Mineral Water and Acqua Panna Natural Spring Water, and Kikkoman Sales USA, Inc., and local sponsors Sysco, American Express, Food Network, Montage Laguna Beach, Celebrity Cruises, Southern CA Gas Company, Epstein Becker Green, OC Restaurant Association, Congenial Spirits, Bread Artisan Bakery Inc., Orange Coast Magazine, BJ's Restaurant, and Wahoos.
For more information, visit NoKidHungry.org.