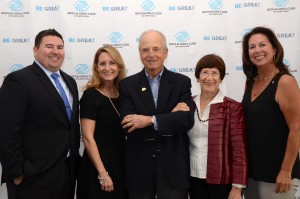 The Boys & Girls Club of Santa Ana carried out the grand opening and ribbon cutting of the Joe MacPherson Center for Opportunity and new Garage Teen Center with the completely renovated Main Club.
With donors, community leaders, Club leadership and youth members looking on, BGCSA crowned the development project as a much-needed place for local youth and teens to develop critical academic, life and fitness skills in a safe and technologically advanced environment.
The community rallied around BGCSA to show its support for the grand opening and anniversary celebration, with more than 100 people there to witness the official ribbon cutting.
The 3,500-square-foot Garage Teen Center is designed to help Club teens on a path to graduating high school on time, with a plan for their future, while discovering their passions and teaching them life skills through the Live Mas Lounge.
Major donors to the project included the Ueberroth Family Foundation of Newport Beach.
"We were honored to pledge our gift to the Boys & Girls Club of Santa Ana based on the good work they have done over the past six decades," said Ueberroth Family Foundation Board of Directors President Vicki Booth. "We have the privilege of seeing our donation translate into a long-term investment in the education of Santa Ana youth and the promise of even greater accomplishments to come from BGCSA and its members. Nothing could be more important to the future of these children and teens than having a support system to serve them and their families, and successful graduation from high school."
For more information visit boysandgirlsclub.com.