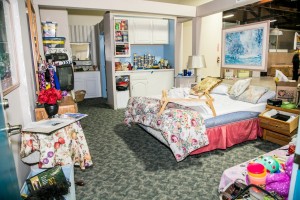 "We may not think there are poor in Newport Beach, but there are," explained Newport resident Lissa Callaghan. "Every month over 200 people from all over Orange County come to my church looking for help. They ride the bus, walk or use their last gallons of gas coming to a church in Newport because they expect that churches want to help and that in Newport we will have the means. The families at Our Lady Queen of Angels (OLQA) are grateful for their comfortable lifestyle, and as a church we feel it's our responsibility to respond to those with less."
"The poor are invisible in Newport; they hide," Callaghan continued. "Many sleep in the transportation center or the beaches and other undisclosed places. Things change after dark. These people cannot be dismissed as alcoholics or drug addicts. Mental illness is often involved and many are sick and have disabilities, but how are they going to get healthy living on the street or crowded into a motel room?"
Callaghan volunteers at Helping Hands at OLQA. She explained that Helping Hands is funded by OLQA and some other churches. Helping Hands is open Tuesday to Friday from 9 a.m. to 2 p.m. The homeless come for food cards, bus passes or other necessities, such as shampoo. Volunteers meet every person who comes; they sit with them, find out where they sleep, and ask how they can help.
"We believe that's what Jesus would do, that's the Christian response," Callaghan said. "We can't meet all their needs, but we can listen, and we refer to others who can. Volunteers help them make phone calls. Many have been turned away by their families or by shelters, which only take a certain category of person or have rules not everybody can follow. Property values make it too expensive to build a shelter in Newport. But our city has funds for low income people and the desire to help, so I think we should form a coalition with Costa Mesa and work together to help the poor as we've worked together in our school system."
"Laguna has a task force and a shelter and beds," Callaghan continued. "Costa Mesa declared that they plan to end homelessness in their city within the next several years. They have a plan, a task force, and they're working with churches and the police in their city. Unfortunately Newport Beach has no such plan. What is God going to say about our response to people in need in our community? I think all Newport needs to work together. If we could combine with Costa Mesa, we may be able to make a difference and house people who are without a permanent home."
OLQA is hosting an exhibit called "214 Sq. Ft." to increase awareness of the issues homeless face, and encourage the community to help in simple, concrete ways.
"214 Sq. Ft." is a multi-media art installation that recreates a typical motel room inhabited by a family. Homeless families often choose motels instead of living on the streets, but must move rooms every 29 days.
"214" was created for Project Hope Alliance in partnership with UCI's Claire Trevor School of the Arts. Project Hope Alliance is a nonprofit organization helping Orange County's homeless children and their families.
The community is invited to view the exhibit October 2-9. There is a pancake breakfast Sunday, Oct. 5 after Masses which is also open to the public. Teachers from Corona del Mar Junior and High School have been encouraged to bring classes to view the exhibit.
Admission is free, but visitors are asked to bring food or gift cards. For further information, go to olqa.org.
Cindy can be reached at [email protected]