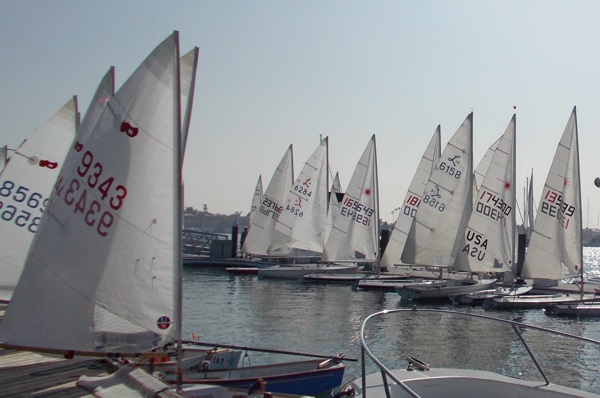 Saturday brought ideal sailing weather for the non-keel boats as they raced to benefit Children's Hospital of Orange Coundy.
A record-breaking 72 boats were involved, representing most of the Newport area yacht clubs.  Twenty-nine Harbor 20 skippers in three classes registered for the racing. The Harbor 20s were divided into three classes. The next largest single fleet was the Naples Sabot group with 15 racers entered, closely followed by Thistles, Lasers and Lido 14s. Bob Yates was the biggest donor among the racers on Saturday. Results are available on the Balboayachtclub.com website.
Despite the heat and lack of wind on Sunday, this year's CHOC Regatta raised over $25,000 that will go directly towards CHOC's Surgery Department to build a 6,400 square foot Post Anesthesia Care Unit in the new tower. The sailors enjoyed the day anyway and will return on Sunday, Dec. 2, to race. The raffle prizes were awarded as was the CHOC Cup which went to Jim Devling of Campaign II, a 34-foot yacht. The beautiful Cup is awarded to the skipper who raises the most money for the regatta.
Balboa Yacht Club has been sponsoring this exciting event for 13 years to raise money for and increase community awareness of the health care services available at the only facility in Orange County that is exclusively for children.  The funds raised during the Regatta will help ensure that services are available to children of all socio-economic backgrounds.
For more information, as well as complete results for the CHOC as well as the first of the Sunkist Series, go to the Balboa Yacht Club web site at balboayachtclub.com.
– By Nancy Mellon