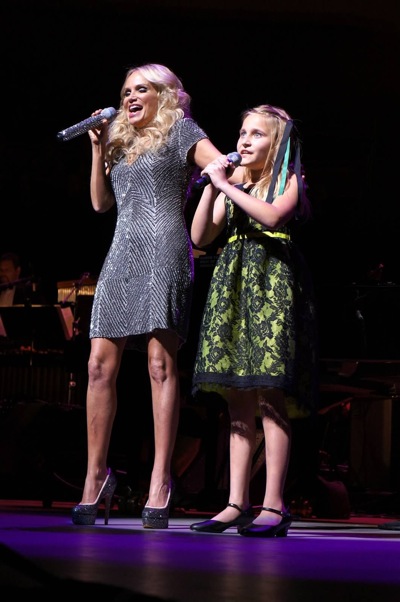 Local girl Brooke Besikof, 9, of Newport Beach had the experience of a lifetime Monday when she sang a duet with Tony and Emmy award-winner Kristin Chenoweth, in front of a few thousand fans.
Besikof was with her mother, Sarah, at the Segerstrom Concert Hall enjoying Chenoweth's solo show when the star said she needed a duet partner and asked the audience if anyone knew the song "For Good." The song happens to be Besikof's favorite tune from the Broadway musical "Wicked," in which Chenoweth starred as Glinda, the Good Witch.
A lot of people raised their hands, Sarah Besikof said, but Chenoweth spotted the mother and daughter duo in the front row and asked Brooke if she would like to sing it.
"You don't know how badly I do!" Brooke replied.
"Well, I don't know, Brooke, we've never met," Chenoweth joked, "and because of that answer, you just got chosen."
The petite singer and actress then invited the young girl up on stage, joking a few times before the song began, saying, "Are you tall or short for your age? I can't tell." and "Note to self: Don't ever have anyone cuter than you are up here."
After a little back and forth, the music began and Chenoweth reprised her role in the song as Glinda, taking the first set of lines.
When Besikof sang her first line as Elphaba, the crowd erupted into cheers.
Chenoweth threw her hands up with amazement.
The young performer had an incredible voice, great range and nearly perfect rhythm.
At one point, Chenoweth even joked that she was retiring and at the end of the song joked, "I should just leave the stage."
At the end of the number, and after several looks of awe and astonishment from Chenoweth,  Besikof then took a few bows to a standing ovation.
"That right there, that is exactly why I do what I do," Chenoweth said before continuing.
The bubbly Chenoweth finished out the 90-minute show with a variety of numbers, spanning pop to country to classical.
Brooke Besikof's performance with Chenoweth can be viewed on youtube.com.