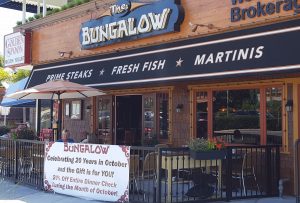 At the City Council meeting on June 26, council passed a resolution confirming the levying of assessments and appointment of the Advisory Board of Directors for the Newport Beach Restaurant Association Business Improvement District's Fiscal Year 2018-2019.
The resolution passed 6-0, with Mayor Duffy recusing himself due to business interests. There was no public comment or discussion from the council.
Appoint to the Restaurant Association Business Improvement District's Advisory Board of Directors are Phil Crowley, Modo Mio; Thaddeus Foret, The Winery Restaurant and Bar; Juan Carlos Godinez, Pizza Nova; Matthew Meddock, Sessions West Coast Deli; Jordan Otterbein, A Restaurant and Market; Kenyon Parr, Five Crowns and Side Door; Eunjoo Pluenneke, Balboa Lily's; Christopher Roman, Fork, Knife + Spoon; Talia Samuels, representing Moulin; Ron Schwartz, Muldoon's Irish Pub; Jim Walker, The Bungalow Restaurant.
According to the staff report, the City of Newport Beach, or its approved designee, collects the member assessments on behalf of the NBRA BID and remits the monies back to the BID for funding the activities described in the annual report, which was originally filed with the City Council on May 22, 2018.
In addition to the assessments, the City's proposed fiscal year (FY) 2018-2019 budget includes sufficient funding for providing $40,000 to continue to support the NBRA BID for its marketing and public relations efforts.
The Newport Beach Restaurant Association Business Improvement District (NBRA BID) was formed in 1995 for the purpose of financing activities and programs to benefit businesses located and operating in the area. The NBRA BID encompasses any food service business within the city boundaries, such as restaurants, markets with dine-in or take-out food service, bars serving food, dessert shops, coffee shops, juice bars, catering companies, or similar food-related businesses.