I seem to be on an unofficial search for the area's best hamburger. I've ordered the burger at four restaurants over the past two weeks: Olea in Newport Beach, The Bungalow in Corona del Mar, and Las Brisas and Selanne Steak Tavern in Laguna Beach.
No two taste buds or palates are alike. Some like a double-double with cheese, others (like me) prefer more exotic fare, but it's easy to spot a good burger—quality beef and toppings, proper preparation, and – almost as important – the side of fries that comes with the burger.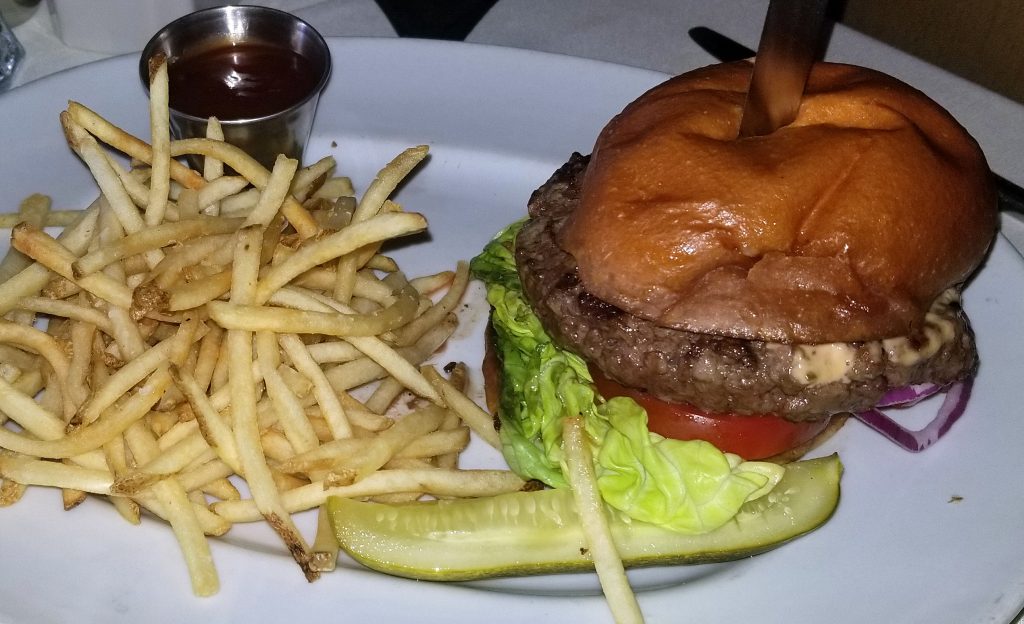 The Bungalow
The Bungalow is open for lunch as well as dinner, a hidden gem for those looking for a nice midday dining option. Their lunch menu includes a variety of soups, salads and sandwiches, along with the signature steaks.
Fellow NB Indy writer Richard Simon joined me for lunch so we could order several items. I chose the Bungalow burger ($13), a half pound burger on a challah bun with bibb lettuce, tomatoes, onion, 1000 Island dressing and shoestring fries.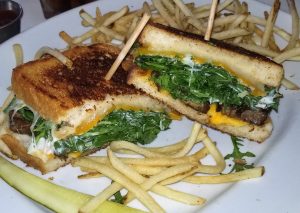 We also ordered Joanie's New Orleans Grilled Cheese ($13) with short rib, guyere cheese, white & yellow cheddar, creamy horseradish and arugula—and more shoestring fries. And for good measure, Richard added the beef dip sandwich ($15), sliced thin in au jus, with swiss cheese and grilled onions on a French roll, served with creamy horseradish and even more shoestring fries.
The burger was very good, cooked medium with a slight pink center, but I was more intrigued with the grilled cheese, which I thoroughly enjoyed. Richard hogged the beef dip sandwich. The fries are tasty and fill the plate.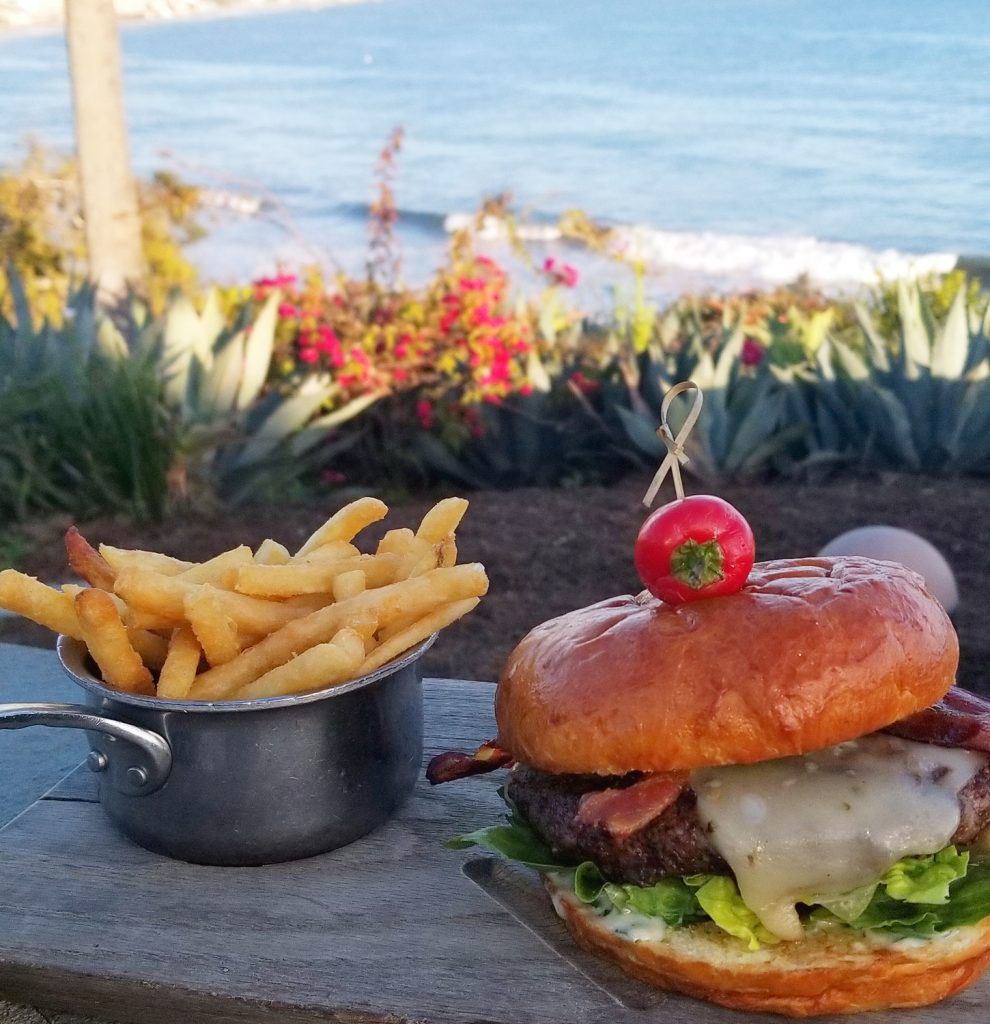 Las Brisas
Las Brisas has a new Executive Chef: Jay Scollon, a graduate of the Le Cordon Bleu School of Culinary Arts in Pasadena. He comes to Las Brisas after a stint as Executive Chef for a small restaurant group in Culver City specializing in a high-end gastropub style fair. Prior to that, he worked in several upscale kitchens including Hatfield's, a Michelin star-rated restaurant in Beverly Hills.
He replaces chef Matthew Robinson, who helmed the Las Brisas kitchen for less than a year before departing several months ago.
Last year, Chef Robinson created a burger that wowed me: a patty made up of sirloin, short rib and brisket, cooked to order and piled atop a brioche bun with bacon onion jam, Havarti cheese, foie gras aioli, and a fried egg, accompanied by perfect, thin house-made chips. Yes, foie gras aioli.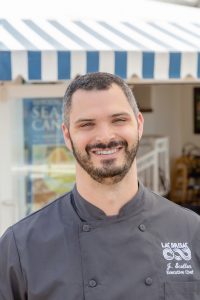 That burger is gone. The new Brisas Burger ($21) has bacon, roasted green chilis, charred scallion aioli, pepper jack cheese, lettuce, tomato, packed inside a brioche bun with a side of battered fries.
I sampled several items from the patio menu with other fellow food writers last month: chips and guacamole (apparently a Las Brisas staple—Executive Sous Chef Kelvin Crisostofo told me they go through 20 cases of avocados every day), charred asparagus ($14), a trio of pulled chicken tacos, and the burger, among others.
The burger is good but less adventurous than its predecessor, which is probably more in line with the palates of locals and tourists who visit Las Brisas for the ambiance, view and cantina comradery.
An interesting note: four different tacos are listed on the menu: ahi tuna, short rib, roasted portobello, and chicken tinga. The tacos are 3 for $22 so we ordered three different ones, but quickly discovered the order must be three of the same tacos. Apparently, the cooking times vary for each taco, so it makes it easier to ensure the food comes out properly. As the GM told us, "we make everything to order. We want our guests to get best possible experience in terms of what they are eating and our ability to execute it seamlessly every time."
We settled on the shredded chicken, but were disappointed to not have the option of trying three different tacos. The charred asparagus was a nice twist on the cliched charred brussels sprouts, and the guacamole was indeed worthy of multiple chip dipping.
Selanne Steak Tavern
French 75 in Laguna Beach was my go-to spot for many years. You could usually find me at the bar sipping a French 75 cocktail (with champagne and cognac, not gin) and savoring an appetizer.
French 75 closed several years ago. In its place is Selanne Steak Tavern, co-owned by Ducks hockey legend Teemu Selanne. The restaurant opened in November of 2013, yet for some reason I never set foot through the door until last month, which I decided to pop in and grab a bite before heading to another event.
The interior is vastly different than French 75. The dark romantic atmosphere and large mural over the bar is gone, but I really like the revamped interior—it's lighter and more open, and the bar has expanded a bit.
I grabbed a bar seat and perused the short tavern menu. The Flash Burger ($16) caught my eye: ground Snake River lobe sirloin, angry onions and baconaise on a pretzel bun, accompanied by truffle parmesan fries.
I'm not sure if it's the quality beef or the pretzel bun or the dressing, but the burger was so good I wolfed it down along with the fries. Definitely one of the best I've had.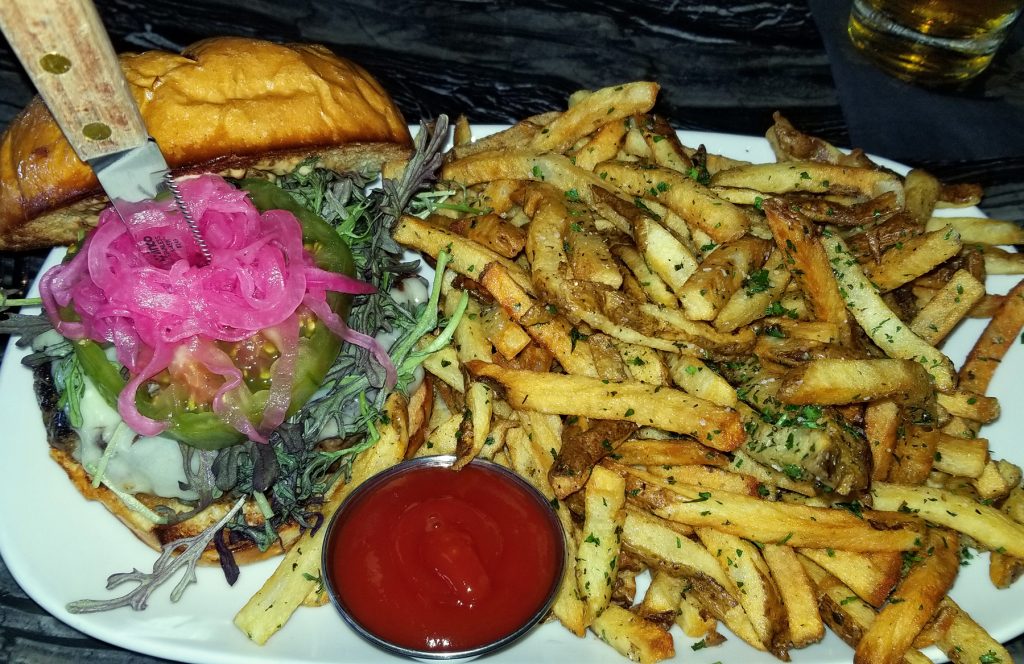 Olea
Which bring me to Olea. I've had their American Wagyu Wine Country Burger ($17) three times in the past six months, most recently last week. When I think of a perfect burger, this one fits the bill. First, it's been consistently excellent and perfectly prepared. They use hooks two-year aged cheddar, red mustard leaf, cabernet-bacon jam, preserved tomato, pickled onion, soft potato bun and secret sauce for this burger beauty, accompanied by a very generous side of insanely addictive herb fries.
The burger comes with a steak knife jammed into it, a necessary tool because you'll want to cut this baby in half to better get your hands, and mouth, around it.
I've had other excellent menu items at Olea, but nothing beats sitting at the bar enjoying this burger with a cold glass of craft beer.