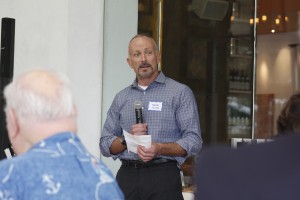 The January Corona del Mar Chamber of Commerce Networking Speakers Luncheon has traditionally been the time for the Chamber to install a new board of directors and host the city's new mayor, who usually offers a preview of the state of the city address which will be delivered several weeks later at the Mayor's Dinner.
At this week's Chamber luncheon, held at Fig & Olive in Fashion Island, City Manager Dave Kiff filled in for Mayor Diane Dixon, who unexpectedly was called away on a family emergency, and offered updates on what was in store for Newport Beach in 2016.
Kiff noted that there is a City Council Planning Meeting this Saturday at 9 a.m. at Marina Park that is open to the public, which Dixon will lead. The meeting offers the public an opportunity to listen to and weigh in on plans for the city's future.
"The council will talk about maintaining fiscal discipline and address long term obligations, including pensions," said Kiff.
Another issue to be addressed at the planning meeting is revitalization of the community.
"Corona del Mar is tremendous already, but we're looking at Balboa Village, Lido Marina Village," said Kiff. "The Corona del Mar entryway project will start, assuming council approves it, in about a month, and hopefully be done—make that better be done, before summer. We'll also talk about the new trolley system. We'll start in the peninsula area, park people up at Hoag. That will alleviate some of the traffic on the peninsula."
Another area Kiff mentioned was improving the harbor.
"The seawalls need a lot of work, especially on Balboa Island. In some areas we'll replace the seawall, in other places raise them six to 12 inches. We want to get ready for a change in sea level, as well as the age of the seawalls. Council has also been talking about dredging the harbor under residential piers. We have a new permitting system that allows people to take eel grass, and the city will plant it in other areas."
Kiff said public safety is also on the agenda for 2016. He noted that Newport Beach is a relatively safe city, but we can always do better.
"If Chief Johnson was here, he'd talk about property related crimes, locking doors, locking car doors—there's too much of an opportunity there," noted Kiff, who added that the city needs to hire a new police chief.
"That is a selection I make as city manager, but I have community members to advise me. It's fun and challenging because it's such a key position. I wish Jay [Johnson] would stay another 10 years, but our retirement system does not encourage that."
Kiff also talked about public-private partnerships to revitalize certain areas of the city, and that the Lido House hotel construction on the site of the old city hall would be starting soon.
Kiff's first question from the audience following his remarks was about the rumor that the classic Lido Theater would be torn down.
"I had heard the rumor but there is nothing to back it up," said Kiff. "It's a local historic designation but nothing more than that. It's up to [building owner] Fritz Duda, but the City Council would weigh in for any zoning change. I would not put much stock in that rumor. He has reached out to see what options are available for a continued use as a theater."
In response to a question about parking meters on Coast Highway, Kiff noted that the city is in the process of upgrading the parking meters on Coast Highway so that drivers can pay via their phones, from a pay station, or with a credit card.
Also at the Chamber luncheon, Orange County 2nd District Supervisor Michelle Steel gave a brief update and introduced new John Wayne Airport Director Barry Rondinella, who previously served as director of operations for Los Angeles International Airport.
Corona del Mar Chamber of Commerce board members installed at the luncheon included Linda Leonhard, President/CEO; Jim Digrado, chairman; Bernie Svalstad, vice-chairman; Jerri Uffelman, treasurer; Shari Ten Eyck, secretary; and board members Kevin Priestley, Craig Christensen, Linda Wehr, Richard Magdaleno, Jeremy Olson, Raj Qsar, Pamela Knapp, and Walter Lombardo.