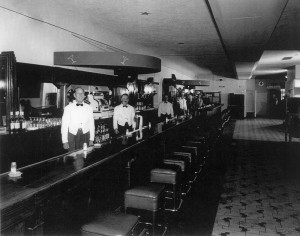 By Christopher Trela & Catherine Del Casale | NB Indy
 We don't usually go to bars for dinner, but there's a new seaside lounge that will soon become as known for its fun bar food as it is for being one of the oldest taverns in town.
Stag Bar + Kitchen (formerly The District Lounge) near the Newport Pier dates back more than a century, and has been revamped and renamed The Stag Bar, it's original moniker.
"We are extremely excited to celebrate the return of the Stag," said owner Mario Marovic. "Much of the community remembers the bar fondly as the Stag, as it had been known for generations. It was time to bring it back and properly recognize its incredible history, along with a complete revitalization for many more generations to enjoy."
While initially serving whiskey to guests behind a counter on the first floor of the Stag Hotel, built in 1908, Marovic said the Stag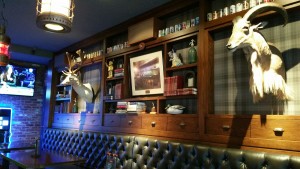 Bar officially opened its doors as a full bar in 1914. During prohibition the name was changed to the Stag Café. Beer was supposedly brewed and sold upstairs, while sarsaparilla was served downstairs.
Following the end of prohibition in the early 1930s, The Stag was remodeled and became a martini bar. The bar itself, already one of the longest around, was extended to nearly 100 feet in length, making it the longest bar in the city. This is the same bar you can order a drink from today.
The name changed to The District Lounge in 2006, but to mark its centennial the bar underwent a complete restoration and expansion.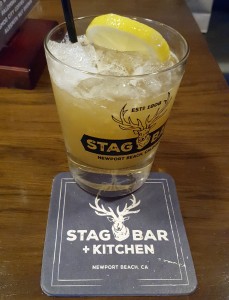 The bar has been rechristened Stag Bar + Kitchen, and as of January 1 is serving a menu that features specialty pizzas, meatball sliders, wings and seasonal salads.  
We were invited to a media tasting to sample the new menu, and discovered that the cuisine has become an important component of the Stag Bar.
Chef Jeff Moore, who has worked at Hopscotch, Wild Goose and Dori Deli, developed the recipes. Most of the food is made in house, from sauces to pizza crust to meatballs.
"I love the remodel they did," said Catherine. "They have some amazing pizza with fresh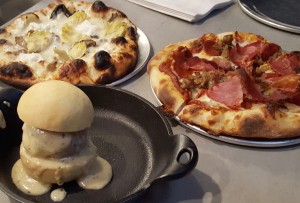 ingredients, homemade crust with slight bubbling, and a good amount of crunch. Among the 16 pizzas on the menu, my favorite was the Meat Coma with prosciutto, pepperoni, capicola and sausage."
"I liked the White Knight with white sauce, mozzarella, mushrooms, artichoke heart and ricotta," said Christopher. "The 8 inch pizzas are $6 to $8, while the $16 inch are $12 to $16, and you can watch the chefs make them in the pizza oven."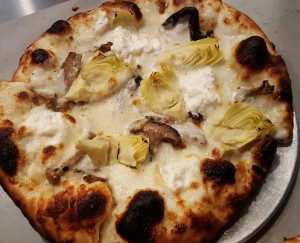 "Their meatball sliders ($3 each) are a must-try," said Catherine. "You get to choose your meat, sauce, cheese and how you would like it prepared (skillet of four is $8, meatball sub is $9). My favorite was the House Grind which was a combination of sirloin, pork, mortadella and prosciutto. I had it prepared as a slider with melted provolone. Yum!"
"I liked the Stag Ball meatball—venison meat and pork fat," said Christopher. "And the garlic parmesan fries ($3) are addicting. The wings ($7 per order) are really good too."
"I also love the fact that they are offering craft cocktails, which is rare on the peninsula," added Christopher. "An old fashioned for $10? That's great."
"My new favorite drink is The Juice Cleanse cocktail, which has Tito's Vodka, Scrappy Firewater bitters, lemon, ginger syrup and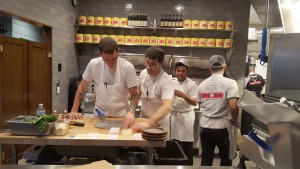 cayenne pepper," said Catherine. "It was light, refreshing, and made me feel kind of healthy drinking it. If you have ever done a juice cleanse it tastes like the lemon one but with some vodka."
Stag Bar + Kitchen is open 365 days a year from 8 a.m. to 2 a.m. The kitchen is open until midnight. Stag Bar + Kitchen is located at 121 McFadden Place.
For more information, call (949) 673.4470 or visit stagbar.com.