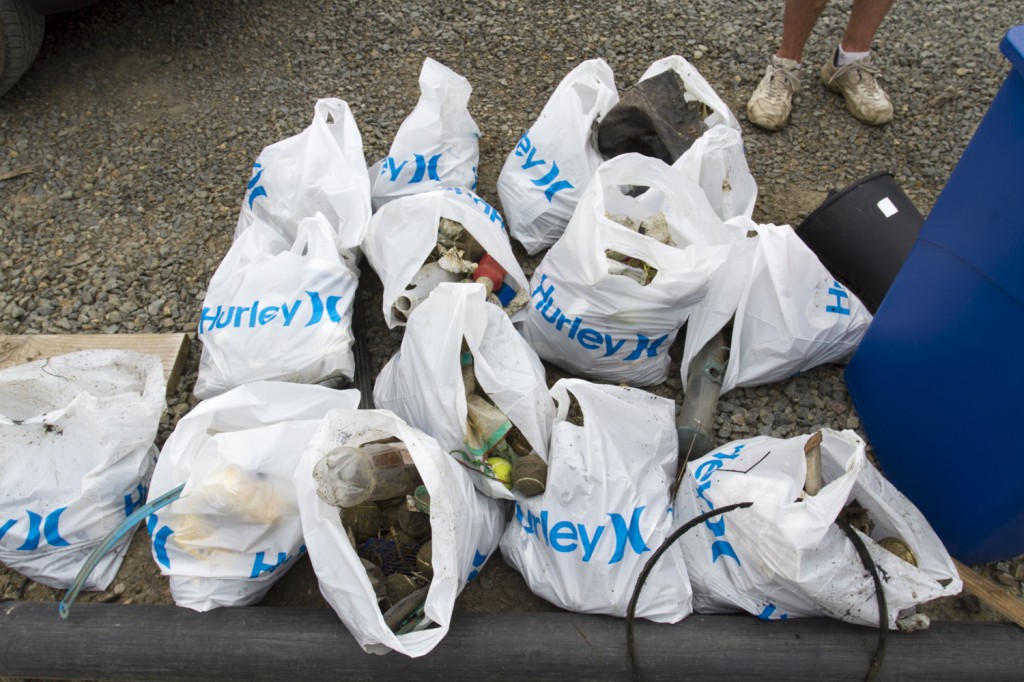 The Newport Banning Land Trust partnered with Newport Banning Ranch, LLC to host a cleanup on Oct. 21 in conjunction with California Coastal Cleanup Day and Inner-Coastal & Watershed Cleanup Day.
The eight volunteers from both organizations collected nearly 500 pounds of debris from the adjacent waterways and the surrounding areas, including tennis balls, plastic water bottle caps and several large metal gates and pipes.
"We were a small group, with a significant impact and are ready to come back next year and engage more volunteers," said Kate Klimow, NBLT Board Member. "This was an important step for the Land Trust, our inaugural volunteer event. A huge thank you Hurley, who supplied all the bags we used to collect debris. We were able to see first-hand the accumulation of trash and debris surrounding the site, and how a few hours makes an incredible different."
Coastal Cleanup Day, started by the California Coastal Commission, is the state's largest annual volunteer event that sends out groups and individuals to cleanup beaches and inland waterways. Since the program's inception in 1985, over one million Californians have removed more than 15 million pounds of debris from our state's shorelines and coasts.
Combined with International Coastal Cleanup, organized by Ocean Conservancy and taking place on the same day, it becomes part of the largest volunteer event in the world.
According to the California Coastal Commission's website, with 70 percent of the cleanup sites reporting, the statewide count stood at 51,543 volunteers. Those volunteers picked up 471,218 pounds of trash and an additional 30,530 pounds of recyclable materials, for a total of 501,748 pounds or 251 tons. There were over 850 sites in 53 of California's 58 counties participating in the 29th Annual event.
"We thought it would be a great opportunity to support and show the benefits of a collaboration between our two organizations. It is one of the first of many steps towards the Land Trust beginning their stewardship of the natural and open spaces of the NBR," said Mike Mohler, Project Manager, Newport Banning Ranch LLC.