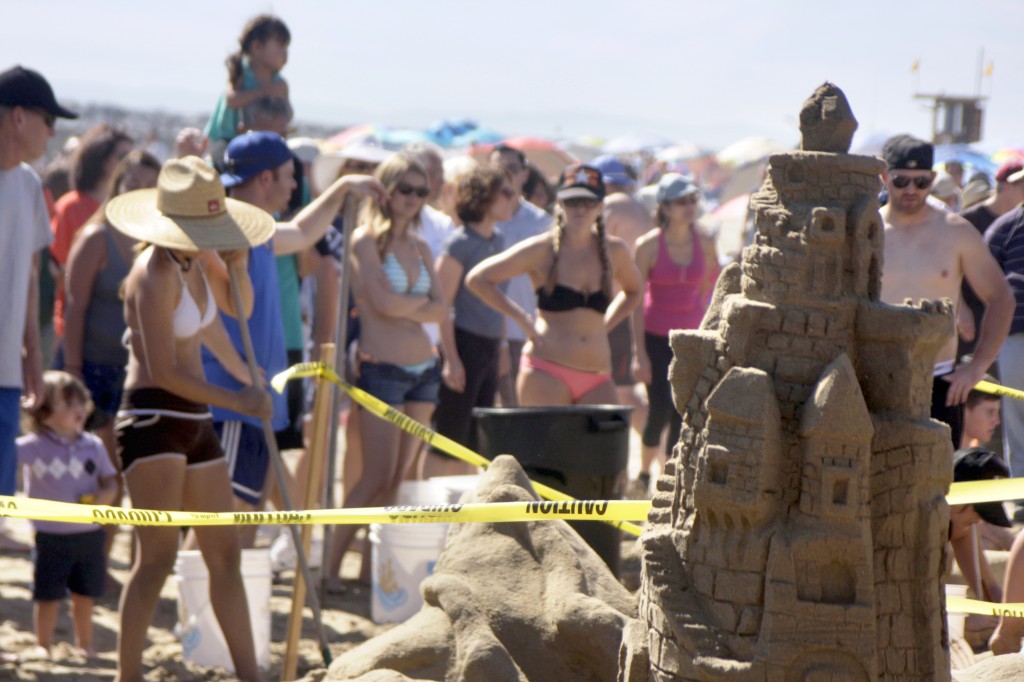 Haunted ocean front homes were erected on a Corona del Mar beach over the weekend, along with spooky sea life and menacing monsters.
The Newport Beach Chamber of Commerce Commodores Club hosted the 52nd Annual Sandcastle Contest on Sunday at Big Corona State Beach.
Teams of family members, businesses, architectural firms and other organizations competed building designs under this year's theme of "Haunted Castles."
Thousands of spectators crowded onto the beach to watch as the sand was sculpted into a variety of  designs.
South Coast Educational Prima Donnas and their "Downton Crabbey" design won an honorable mention in the contest.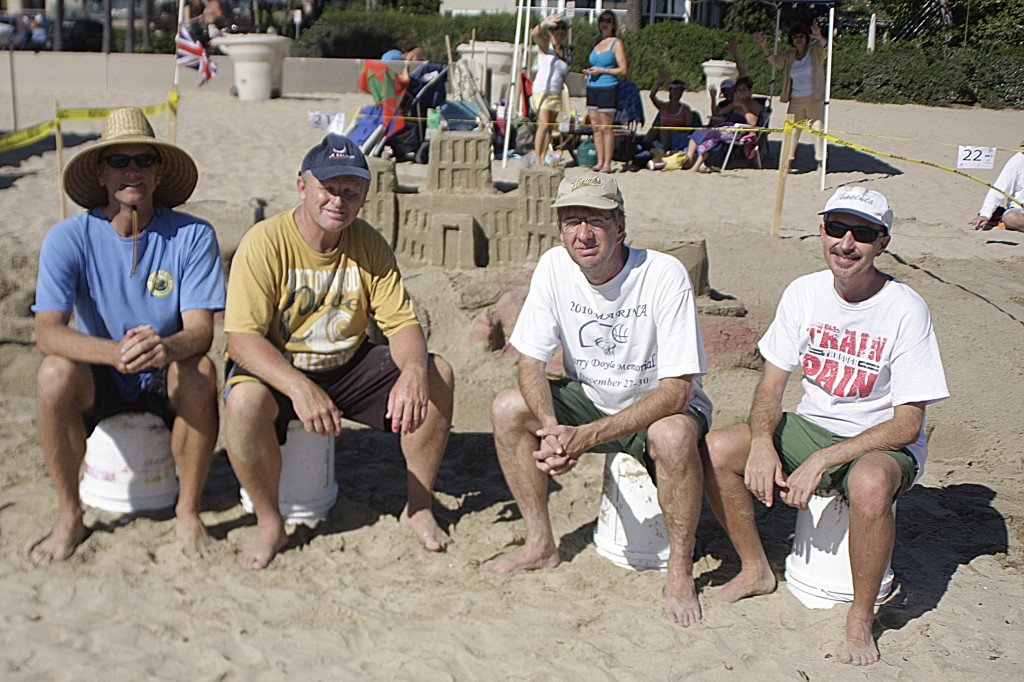 "It's fun, win or lose," said SCE Prima Donna captain Curt Hayden.
The group has four core members: "Artistic director" Jim Martin of Mission Viejo, "delicate genius" Max Cantu of Temecula, "engineer" Mark Borgeson of Aliso Viejo and "king" Hayden of San Juan Capistrano.
The group of friends, many of whom are teachers, have been sculpting sand at the CdM beach for 28 years.
"We get together every year," for the sandcastle contest, Hayden said.
It started with just the four guys.
"It was male bonding," Hayden said.
"We used to be a bunch of bachelors," Cantu added.
Now, it has grown as they got married and had families, they said. The team now has about 12 to 14 people.
They have learned a lot over the years, they agreed.
The group has done a range of ideas over the years, including "Mount Lushmore," a twist on the American monument with the heads of Hollywood's lushes – Paris Hilton, Britney Spears, Nicole Richie, and Lindsay Lohan – which won the grand prize in 2007.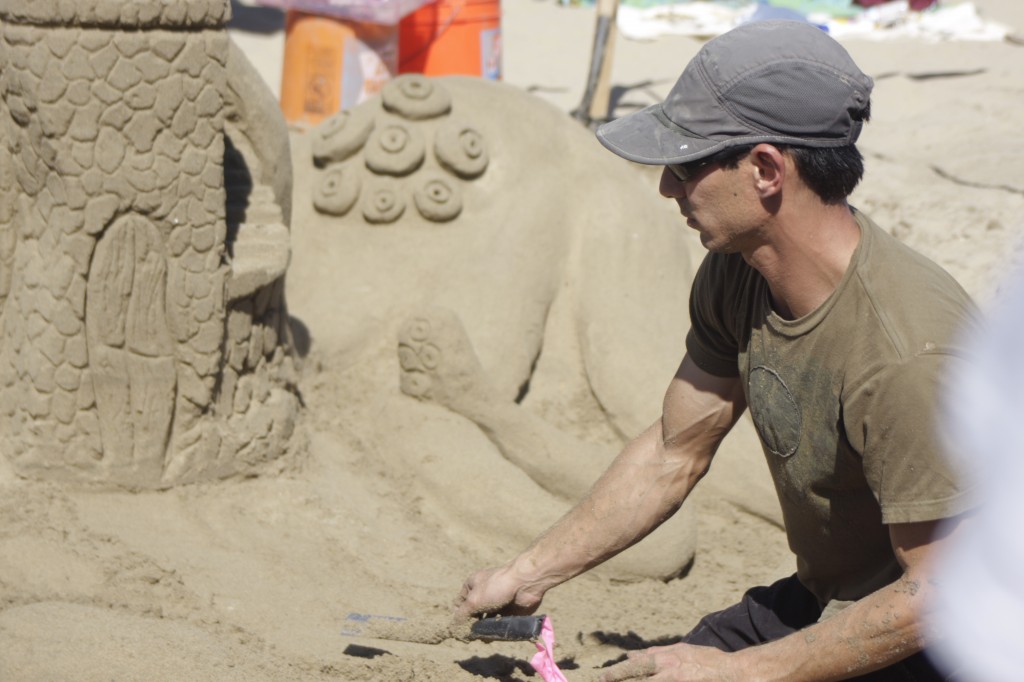 They have won a few other times throughout the years and have had a variety of designs, including "Dancing with the Starfish" and "CSI: Castle Smashing Investigation."
"We do anything that comes to mind," Martin said.
They like to keep it fun, current and try to tie in the theme if they can, as well as trying to keep it "beachy."
Another longtime group of sand sculptors, Team Beach Front Homes from the Big Bear Lake area, "freestyles" their idea on the spot, while trying to stay faithful to the overall theme.
"We don't draw anything out," explained Big Bear team member Todd Churchill. "We come and create it right here."
They start out with a castle and each person contributes something, added teammate Jane Kelly.
Their group also includes Bill Saugez, also of the Big Bear area, Dave Armstrong of Newport Beach and Big Bear in the winter, and many more friends and family, many of whom are ski instructors.
Saugez has been bringing a group to the CdM contest for about 16 years, this year's group have been sculpting sand for the past five years.
It's a good bonding experience, Churchill said.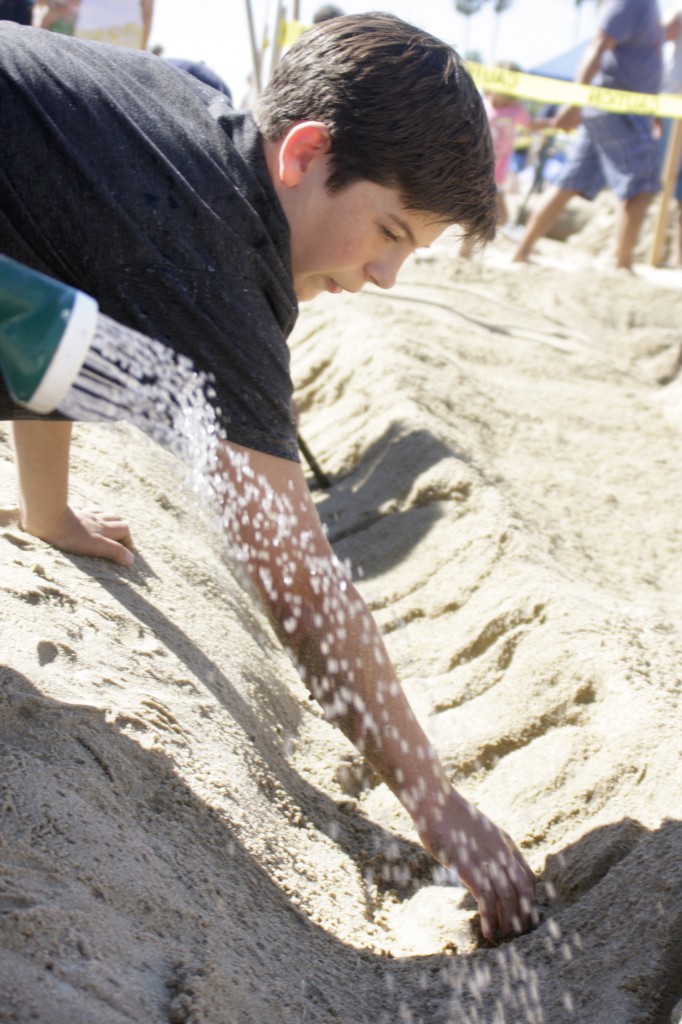 "We really do this just for fun," he said. "We're not here for the trophy. We're here just to get together and have a lot of fun."
But the group has taken the top prize home in past years, including the 2012 Best Use of Theme award. They also won second place for Most Unique Sand Castle this year.
It's also a good bonding experience for the McCool family, who have been participating in the contest for about 20 years.
It all started in 1992 when they just happened to have their family beach day on the same day as the contest, which they knew nothing about. The five family members were offered some buckets and shovels and jumped right in.
Fast forward two decades later, and the team has grown to triple that and they utilize a wide variety of tools.
They have won a few times over the years, including the grand prize one year.
It sort of became a family tradition, said Joshua McCool of Glendale.
It's also become a tradition for many spectators as well, like Ray and Allyson Jeanson of Newport Shores who have attended the event for many years.
For others, like Gail Rich, also of Newport Shores, this was their first year and it's a tradition in the making.
"It's a really fun event," said Rich, whose husband was a judge.
"It's great (for the community), it brings a lot of people," into town, Ray Jeanson added.
They will definitely come back next year, they all agreed.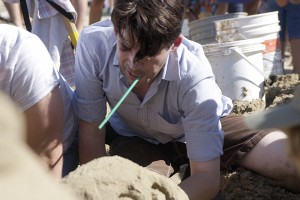 "We appreciate all the hard work they do," Allyson Jeanson said about the Commodores Club members.
"They do a great job," her husband agreed.
"We're real pleased that the commodores have been putting this on for so many years," said Prima Donna team member Cantu. "We're very appreciative of that. They make it fun for us. It keeps us together."
The organizers do a great job every year," Beach Front Home team member Armstrong agreed. The fact that the contest is in its 52nd year is a testament to how well it's run and how popular it's become, he added.
Although the Jeansons and Rich said they aren't artistic enough to build their own castle, they can appreciate all the hard work that goes into the creations.
The group definitely had some favorites this year, including the girl scouts and the team whose castle toppled over from the wind.
The big enemy this year was the wind, Armstrong said.
"When the wind comes up, it can mean disaster," he added.
The sun and the wind were a bit difficult this year, SCE Prima Donnas agreed. The sun dries the sand out quickly and cause it to crumble.
Whatever the weather, whatever the outcome, it's a great tradition for friends and family, all three teams agreed.
They'll stop when they physically can't do it anymore, the Prima Donnas said. Until then, they'll meet at the Corona del Mar beach every year to sculpt sand and make memories.
The event was presented by Doggie Walk Bags and Chris Crosson's Sand Castle Kit.