Pelican Hill Debuts "La Bella Moda" Fashion Show Series
 The Resort at Pelican Hill has just announced a new six-week fashion show and Prosecco luncheon series called La Bella Moda that starts November 2 at the resort's acclaimed Northern Italian restaurant, Andrea Ristorante.
These themed weekly shows highlight fall and winter fashion trends in collaboration with top luxury designers.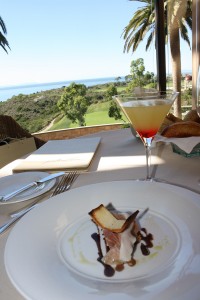 According to the press material from Pelican Hill, fashion enthusiasts will enjoy a three-course prix fixe lunch menu created by Andrea's Michelin-starred, Italian-born Chef Luigi Fineo, and have an opportunity to bid on live auction items to support local charities.
During each event, guests are invited to enjoy an exclusive personal shopping experience in the "Fashion Lounge," presented by Fashion Island. A Personal Shopping Specialist will be available throughout the event to provide wardrobe consultations and suggestions for must-have gifts.
Tickets for each La Bella Moda are $49 per person.
Here's the official list of fashion show dates and themes, courtesy of Pelican Hill:
Date Night Chic
Saturday, November 2.
Ready yourself for a romantic night out with the latest designer fashions from Ella Moss, Joie, Trina Turk, Vince and Z Collection, and an exhibition from Lamborghini Newport Beach.
Haute Handbags, Shoes and Jewelry
Saturday, November 9.
Accessorize yourself with everything from accents to large statement pieces. Luxury designers including Traditional Jewelers will share essentials needed to complete your look.
Ski Chalets to Seaside Cottages
Saturday, November 16.
Wherever your winter-season travels take you, Roberta Roller Rabbit and Vineyard Vines have the latest fashion finds to pack and take along. Bundle up with cold-weather wear, or relax with beachside attire at your favorite vacation destination.
Cocktail Party Glam
Saturday, November 23.
Adorn yourself with the latest designer cocktail attire and accessories from Bloomingdales, Elie Tahari, Halston Heritage, Kendra Scott, and Roberto Coin as you prepare for the glamour of the holiday party season.
Fast Cars and Fine Sportswear
Saturday, December 7.
Gentlemen can rev their engines and don the finest sportswear from designers like At Ease for Men and Elie Tahari at this men's-focused fashion event. Enjoy a display of the latest models from Ferrari/Maserati of Newport Beach and prepare to drive away in style with these designer trends.
Bespoke Bridal Elegance
Saturday, December 14.
Casablanca Bridal presents a bridal collection filled with timeless elegance and breathtaking beauty for the biggest day of your life. From classic lines to the newest wedding trends, brides-to-be will be captivated by the romance of this designer collection, paired with classic jewelry pieces from Kendra Scott.
For reservations and more information, call (800) 820-6800 or visit pelicanhill.com.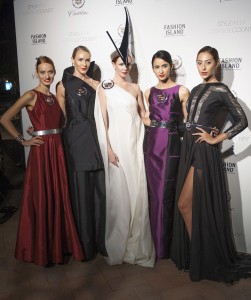 Anqi and FIDM Fashion Shows
Several weeks ago, I attended a fashion show at AnQi by Crustacean at South Coast Plaza. The show featured fall fashion trends and designs by DKNY, Porsche Design and Diane von Furstenberg. The fashion was timeless and elegant with unique twists. I loved the sleek lines of the clothes and bold colors. For this season's makeup, Gregory Arlt of MAC said a light but still smoky eye and soft lip is the way to go. As for this seasons hair trends? Sharp angles and layers that create interest are at the top of the list.
The following evening, Style Week Orange County held a grand finale runway show at Fashion Island that showcased a Cadillac-inspired eveningwear design competition and fashion lines from other FIDM students. The show was interspersed with video footage of the designers discussing their inspirations before they showed their collection. All proceeds from the show benefitted the FIDM Museum Fashion Council, which plans to acquire the Helen Larson Historic Fashion Collection. Pieces from the collection were displayed after the show for guests to admire.
For more information, visit FIDM.edu.