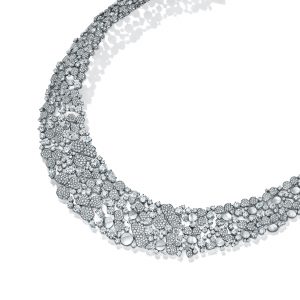 Tiffany & Co. chief artistic officer Reed Krakoff has created his first jewelry collection, Tiffany Paper Flowers. The collection is comprised of fine jewelry, and reflects a perfect balance of refined femininity and industrial modernity.
The collection name and design were inspired by the idea of flower petals, cut from paper and delicately pinned together. Constructed and engineered with a platinum pin at its center, this organic, floral motif is reimagined through a modern and graphic lens.
In support of the collection, Tiffany & Co, has installed a Greenhouse in Jewel Court at South Coast Plaza through June 20.
"The inspiration behind the greenhouse was to take something functional, utilitarian, and large in scale and render it in sterling silver and glass at a scale that was surprising and visually striking," said Krakoff. "It could serve as a centerpiece on a large dining table, or be installed in one of our Flagship stores filled with Paper Flowers and Home & Accessories objects that reference The Paper Flowers Collection."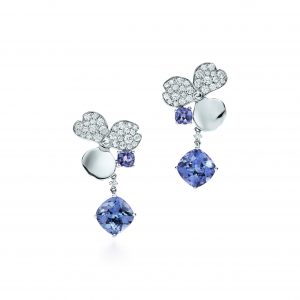 Tiffany & Co. has announced the newest additions to Home & Accessories: introducing the Flora & Fauna collection and new Everyday Objects.
Tiffany has always drawn inspiration from the natural world. Flora & Fauna reimagines archival Tiffany motifs, and the Everyday Objects collection elevates home and garden accessories, transforming the ordinary into works of art.
In the new Flora & Fauna designs, ferns unfurl and irises bloom, while bees, butterflies and dragonflies take flight on designs crafted in sterling silver, crystal glass, stoneware, earthenware and bone china.
Drinkware and vases are crafted in mouth-blown crystal and are adorned with beautifully etched motifs, while stoneware is cast with graphic interpretations of nature.
The collection continues the tradition of creativity and wit that has defined Tiffany since its inception.
Founded in New York in 1837, Tiffany & Co. is the world's premier jeweler and America's house of design. An iconic brand with a rich and storied heritage, Tiffany is a global manufacturer and retailer of jewelry and luxury accessories. The company operates more than 300 Tiffany & Co. stores in 28 countries.
Visit Tiffany & Co. at South Coast Plaza, or on the web at Tiffany.com.