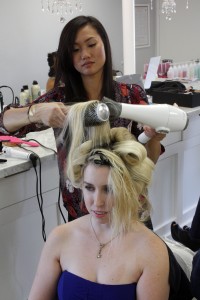 If you're like me and always looking for ways to save time during your beauty regimen, you will love Vanity Belle Boutique in the Back Bay Center behind Irvine Ranch Market (which is technically in Costa Mesa but a curler's throw from Newport Beach).
Vanity Belle is a full service beauty bar that includes hair services, make up, facials and waxing. I love the concept behind blow dry bars and facial bars, but being able to have all of your services done at one time in one location really appeals to me.
Owner Victoria Nino, who is also an advertising executive, found that there was a need for an all-in-one type experience in Orange County.
"Vanity Belle Boutique is a one stop shop where people can feel social in the communal friendly environment while getting everything they need done in one appointment," says Victoria.
It takes the hassle out of scheduling multiple appointments and worrying about being late to your next one because of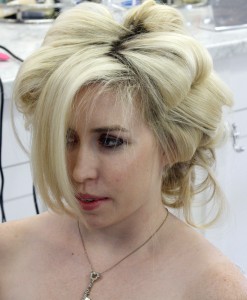 unforeseen circumstances.
She also wanted to incorporate the feel of all the beauty "bars" out there by providing a center island setup and serving a multitude of beverages including champagne and mimosas. The salon also has four chairs for more time intensive services like hair color and cuts.
Vanity Belle Boutique stands out for their green initiative. Not only do they use products that are ecofriendly with recyclable packaging, but they also have designated bins to recycle plastic, left over hair dye, paper, foil and even hair!
They partner with Green Circle Salons, who helps create jobs for non-violent female prisoners by providing them with hair that they repurpose into booms that can be used to clean up oil spills. It was great to learn that they focus on eliminating their carbon footprint and waste.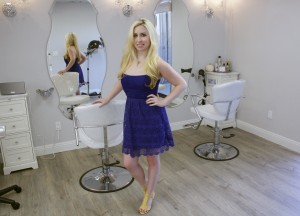 The boutique also caters to brides with a special bridal room for consultations that can be used for pre-wedding boudoir sessions after getting dolled up.
If you aren't able to come to them, they can come to you. Whether it's for your wedding, a special event or just date night, their artists and stylists will make sure your evening is seamless and stress free.
Looking for something different to do with your girlfriends? Come in and have a makeup lesson at the beauty bar. Learn how to do the latest runway trends or achieve a natural smoky eye. They even have a standardized workbook you can take notes in and write down techniques you don't want to forget.
A great time to check out Vanity Belle Boutique is during their first pop-up shop party event featuring Modern Bloom clothing on Sunday, Nov. 16 from 11 a.m. to 4 p.m. The event will feature $20 blowouts, 10 percent off hair products and clothing, plus music, champagne and cupcakes. The first 25 people will also receive a special VIP gift.
For more information or to book an appointment, visit thevanitybelle.com or call (949) 650-2355.
For some great before and after photos check out their Facebook at facebook/VanityBelle or their Instagram @vanitybelles.