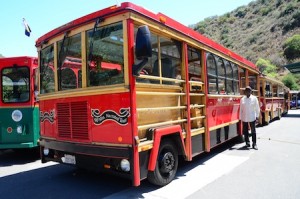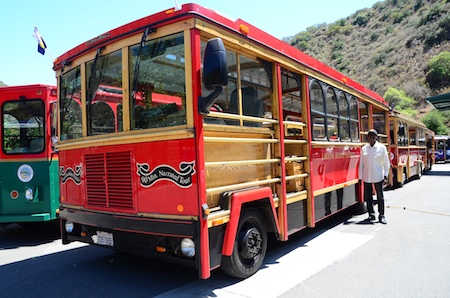 The concept of a shuttle or trolley system for Balboa Peninsula rolled forward last week after the presentation of a Balboa Peninsula Shuttle/Trolley Feasibility Study by Dan Boyle of Dan Boyle & Associates Inc. at the Balboa Village Advisory Committee meeting held July 8 at ExplorOcean.
Boyle discussed purpose, goals, markets and stakeholders for a shuttle/trolley system.
The feasibility study is to assess whether a shuttle/trolley route would give both residents and visitors better access to the peninsula and Balboa Village due to heavy congestion during the summer and on holidays via a simple and fun trolley. The trolley would traverse the length of the peninsula from Coast Highway to Balboa Village, utilizing a turnaround loop at the Balboa Pier.
"Our main goal is to provide a mode of choice," said Newport Beach City councilmember Tony Petros, a Balboa Village Advisory Committee member. "We will fail if our main objective is to improve [traffic] circulation."
Petros stated that the trolley "must be an alternative fuel vehicle and attempt to maintain 15 minutes headways."
According to Petros, legislative and regulatory mandates suggest 15 minute headways, or time between shuttles, promote sustainable communities and green opportunities, which can be used to gain access to state or regional initiatives for funding.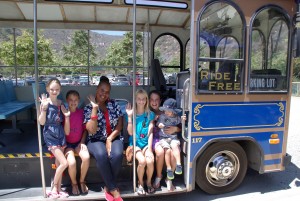 It was also suggested that the committee find out how much money Laguna Beach spends to run their program in order to better determine the feasibility of a Balboa Peninsula shuttle system.
Currently both Laguna Beach and Dana Point have a free shuttle system in place.
Laguna has a summer festival service that links a parking lot along Laguna Canyon Road with Arts Festival sites, the beach, and downtown. It also runs along Coast Highway from the Newport Beach border to the Ritz Carlton resort, where it connects with the Dana Point shuttle, which runs Friday through Sunday until Labor Day.
A Laguna Beach Travel Info app has a "Trolley Tracker" that shows real time locations of the trolleys. Laguna trolleys run every 20 minutes, but often add extra trolleys during peak hours.
Laguna is the model of a successful program, with 10,000 riders on a typical summer Saturday (a number that has doubled since 2002, when the trolley service started operating free of charge to passengers).
According to Boyle, the fact that it has taken Laguna over 10 years to double ridership means a tight focus on providing service for just the peninsula area only during summer weekends will best meet the city's goals toward implementing a successful system.
Several empty lots were proposed for off-site parking for the Balboa shuttle: the Ardell property along West Coast Highway, an under-utilized lot at Avon Street & Riverside Avenue in Mariners Mile, and a lot at 17th Street & Pomona Avenue in Costa Mesa.
The Balboa Peninsula trolley program still has many speedbumps in the road to being approved by the Balboa Village Advisory Committee and the city.
 ##
 During the Balboa Village Advisory Committee meeting, the committee decided not to send the Balboa Residential Parking Permit Program (known as RP3) to the Newport Beach City Council for consideration at its July 28 meeting due to a discrepancy on boundaries.
The decision that the RP3 program, based on block level voting results, would consist of two phases, with Phase 1 covering Medina Way east to Adams Street; and Phase 2 to cover streets east of Island Avenue to Median Way, might have been incorrectly interpreted from the last BVAC meeting.
According to committee member Jim Stratton, the boundaries were not what were stated at the June 10 meeting and he did not feel comfortable voting in favor of sending RP3 to the city council.
This caused the committee members to vote for a re-examination of the previous meeting's minutes to verify the correct boundaries that were established, thereby pushing the recommendation to city council until August.
RP3 has been created in hopes to eliminate "spillover" commercial parking onto nearby residential streets and would require, if enacted, a permit for overnight parking on specified streets.