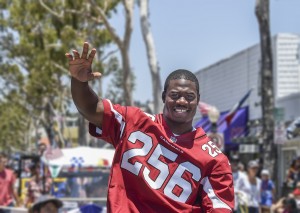 Mr. Irrelevant is not so irrelevant. In fact, in my non-football terms, he is very relevant. For those of us who are a little behind the times and just learning about Mr. Irrelevant, here is the gist: Each year when the NFL draft pick is done, the final pick is named Mr. Irrelevant.
Mr. Irrelevant then is involved in many different acts of service along with special events. This year's Mr. Irrelevant, Gerald Christian, just spent a week with his family in Newport Beach filled with fun events such as surfing, Disneyland, coaching a football game with Special Olympics athletes, etc. That does not sound too irrelevant to me.
Also lets give Gerald some credit that he has spent many years working at his game to become the last pick. Just being picked is no small feat.
Often when we feel irrelevant, we are not looking at all that we have done but rather we are reacting to a feeling. I believe we live in a society that also can make us feel very irrelevant.
When we feel irrelevant, this is the time we need to honor ourselves, and where we are and where we have come from, along with where we are going. I can guarantee you have worked through a lot to be where you are today.
Being the first picked or acknowledged for something feels good for a moment, but that is more about the ego than being relevant. You will see that you are not so irrelevant after all when you are able to see beyond the ego and look at the larger picture.
Truthfully we all have something relevant that we can offer the world even if it is not being mirrored back to us. In fact, being relevant often means feeling irrelevant. Feeling something does not mean it is an accurate perception.
Here is an example of how this might look. I like to pick up trash on the beach—well, anywhere. No one really notices I do this, acknowledges or pays attention to it. Yet I think about how many sea animals I may have helped from getting sick or dying, or the environment not being polluted. So in my irrelevance is a lot of relevance. This is where I believe by making all our choices relevant in the larger scheme of life, not just for ourselves, but our community, and our world, we then become relevant.
What I believe to be the best part of Mr. Irrelevant is the 'giving back' through the charity organization called The Foundation for the Undefeated, which champions stories of perseverance in sports to inspire greatness in others.
Gerald spent much of his time working with the Special Olympics of Southern California, which is being supported this year by The Undefeated. Now see how Relevant being irrelevant is!
Think about all the people in the Special Olympics that Mr. Irrelevant and The Undefeated assist. All these people had to persevere.
The quote on The Undefeated website says it all: "History has demonstrated that the most notable winners usually encountered heartbreaking obstacles before they triumphed. They won because they refused to become discouraged by their defeats."
Growing up in a world where so much is instant gratification, from credit cards to fast food, perseverance seems to be an outdated word.
Marketing teaches us that we can have everything easy with little work. Let's bring perseverance back into fashion. Setting goals and working hard, pushing through the walls, bit by bit. Not allowing the thought of giving up. Moving forward even when tired and scared. Keeping your eye on the goal, not allowing others negative opinions to take over.
That is perseverance.
Mr. Irrelevant can either look at being the last pick, or that he worked hard to make the pick and make a difference in the world.
Sogo ahead and be  irrelevant, and make a difference in the world.
Contact Dr. Shelly Zavala at [email protected] or drzavala.com.