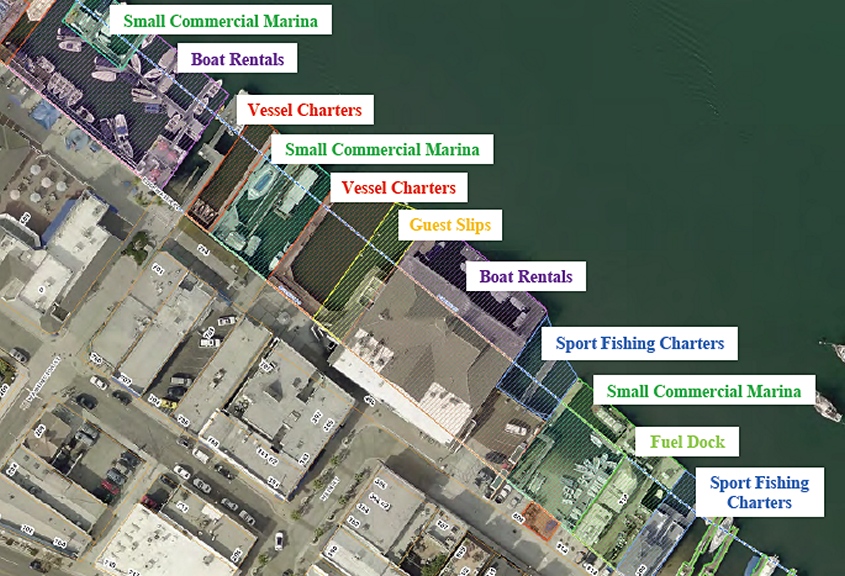 Newport Beach City Council on Tuesday unanimously approved changes to the rent for commercial tidelands in Newport Harbor.
It could be a reduction or an increase, depending on who is discussing the issue.
As city staff and several council members pointed out, it's a reduction of what potentially could have been or should be the rates, if an increase approved in 2012 was ever fully implemented, which it hasn't been since the city "froze" the rates in 2015.
As some commercial marina operators noted during public comment on Tuesday, the new rate is higher than what they are actually currently paying, the still frozen 2015 rate. A few argued that there is a more equitable resolution still out there.
At the end of the night, council voted 6-0 (Mayor Pro Tem Marshall "Duffy" Duffield recused himself because of his business with a commercial dock) in favor of the changes.
The item is an amendment to the city's existing commercial marina rates, a revised rent schedule that reflects the updated fair market values, Assistant Community Development Director Seimone Jurjis explained.
It's an "update of rents that commercial pier permit holders pay in Newport Harbor," City Manager Dave Kiff explained in his "Insider's Guide."
"These include large and small marinas and more, when they are over public (and city-held) tidelands," Kiff clarified.
Tidelands is the public land underneath the water, Jurjis noted.
It is following up on an effort by several of the current council members to lower the increase approved in 2012.
Under the 2012 council action, the rates per square foot were meant to reach $1.68 for large marinas and $1.26 for small marinas by next year. The plan was to increase slowly over several phases.
The decision five years ago came after weeks of meetings, numerous hours of heated discussions, and facing threats of boycotting the Christmas Boat Parade.
After some affected by the change criticized the move, the rates were "frozen" in 2015 until staff gathered more information.
"Staff decided that it was an opportune time to go back and revisit and re-study what the fair market value was," Jurjis said Tuesday, and put the fees on a "temporary hold."
They were paused in the first phase of implementation, at 35 cents per square foot for the large commercial marinas and 26 cents for the smaller marinas.
Since 2015, these rental rates have remained static while new appraisals of fair market rent were conducted.
After the freeze, the marinas were "spared a couple years" of what would have been higher fees, Councilman Brad Avery pointed out.
Anyone running a commercial marina during this time "had to know" they were paying a rate "way under market," Avery said.
Tuesday's action would change the rate in two phases, reaching $0.76 per square foot in November this year and finally $1.17 in August next year for large commercial marinas (more than 30,000 square feet).
For smaller commercial marinas (less than 13,000 square feet), phase one would hit $0.49 per square foot and then settling at $0.76 in the next phase.
In the newly created category for medium sized commercial marinas (everything in between, size-wise), the rate will be $0.62 at first and then $0.89 in the same time frame.
These values are according to an outside analyst who studied the fair market rates for Newport Harbor, Jurjis said.
After 2018, the fees will be adjusted annually by CPI index, Jurjis confirmed. After 10 years another market analysis will be conducted.
Jim Parker, representing Port Calypso Marina, gave his "qualified support" of the resolution because it's the best offer commercial marinas have received to date, but it's the best rate that could be – and should be – offered.
"I do not believe that this resolution delivers a fair and equitable tidelands rental schedule for commercial marinas, that is in the long term best interest of both commercials marinas and the harbor," Parker said.
It doesn't favorably compare to the recent actions for private docks and mooring lessees of identical tidelands waters, Parker argued. How they are charged and the rate they are charged for commercial versus private is very different, he noted.
"Why is a commercial dock treated so much differently than a private dock when all tidelands waters are identical by common and legal definition?" he asked. "I have no rational answer to that question."
Muldoon answered that moorings offer low-cost access to the water and residential docks are built at the owner's expense, while commercial marinas are for-profit, so there is quite a difference.
It's lower than what the rate could be, if the 2012 increase was unfroze and fully enacted, as Muldoon repeatedly pointed out that this is not an increase.
"Is there any scenario where this is a rate increase?" Muldoon asked.
"Not at all," Jurjis replied.
Muldoon emphasized that this move is a reduction in rates as he asked – one by one – to confirm the percentages of savings in each category.
The percentages, as resident Michael Morgan pointed out during public comment, are the potential savings as compared to the 2012 rates, which were never fully implemented. In his example, small commercial marina rates are actually paying $0.26 per square foot, Morgan noted.  
"That's what we're currently paying," he said. "You're saying that the rates aren't going up… But, in effect, it's going to be upwards of 200 or 260 percent rate increase from today's current paid rate."
At the final figure, the 2012 rate would have been more than a 300 percent increase.
"We're voting on a rate reduction from the 2012 numbers," Muldoon clarified.
The numbers come directly from the appraisal company, George Hamilton Jones, Inc., who studied the issue. Jones understands the harbor, Avery said. Their study showed that the 2012 numbers were too high and returned with the lower figures council voted for on Tuesday, he added.
The appraisal was fair and it's time to implement it , Avery said.
"In my view, it's never fun to pay more, but I feel like we've done our due diligence, the previous council did, to undertake this effort," Avery said, and then agreed with Muldoon that it was not actually an increase. "This is just a matter of trying to do what's fair."