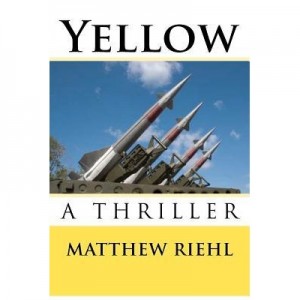 As the New Year settles in, and most of us struggle to keep up with our resolutions, there is nothing like having an overachiever come along to make us realize just how lackluster our efforts really are.
This week, that smack-in-the-face realization is provided free of charge by Newport Beach resident and author, Matthew Riehl. Riehl has not one, not two, but three new novels all currently making their nationwide debut.
A graduate of UC San Diego, Riehl has a writing background of a more journalistic nature, earned while writing for a daily newspaper in Arizona.
Three years ago, he began writing his first novel when he says, the idea came to him "from out of the ethos." That idea became the thriller, "Yellow," one of the three books now available.
In "Yellow," readers meet Jax Wright, lead technical editor at a military proving ground.  During the course of his duties, Wright learns that information regarding the new super weapon, dubbed Goliath, being tested at the facility is being leaked. Upon learning of Goliath, the terrorist group Hamas commences trying to infiltrate the proving ground and claim the weapon as their own.
Knowing the massive amount of destruction Goliath would be capable of if it landed in the wrong hands, Wright decides to play detective himself, in an effort to expose the traitor. Ultimately, this decision will set in motion a chain of events leaving the fate of the world, as we know it, resting largely in Wright's own hands.
Riehl's second novel, "Ghost Chaser," takes us on a suspenseful journey of a different sort, as we follow small town detective, Niles Patrick, on his quest to solve a string of murders.
At the scene of a particularly grisly killing, the only evidence to be found is a set of fingerprints. Upon running the prints through the system, Patrick discovers, to his absolute puzzlement, that the fingerprints are his own. As the situation repeats itself at subsequent crime scenes, he fears he will lose his mind, chasing a serial killer that may or may not be himself.
"Brenda," the novel rounding out Riehl's hat trick, found inspiration in a real event. In this tale, we meet a ten-year-old boy who, in an attempt to escape a whipping, unwittingly sets in motion a horrific accident. As a result of the tragedy, he finds himself sentenced to eight years in a detention center, and is completely cut off by his family.
Upon his release, he discovers that his nightmare is just beginning, as he learns that someone, known to him only as Brenda, has been watching him, and is intent on making him relive his past, and suffer in his future.
Led on a quest that has him running across the country, with the authorities in hot pursuit, he is trying everything in his power, not only to keep the ones he loves safe, but to redeem himself in the process as well.
In an interview on askdavid.com, Riehl said "Brenda" is the story of what could have happened, had the outcome of a particular event been different.  He called it "an inspirational story that illustrates what the human spirit is capable of when faced with extreme adversity."
In his own brush with being an inspiration, Riehl has shown that there is no excuse not to pursue our passions. He has said of his journey through the writing process, "I went into this thinking about potential fame and fortune, but I learned that the satisfaction is in the journey, not the destination."
I'd wager that each of us has a similar journey just waiting to be embarked on. While our own sojourns may not yield three novels, I'd also bet that the satisfaction found at the end would be no less sweet.
For more information about Matthew Riehl and his novels, please visit riehlsuspense.com.
Edie Crabtree is an avid reader, and the mother of three active boys.  She can be reached at [email protected]