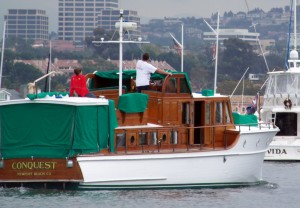 Before I tell you about the Christmas Boat Parade, I wanted to share a photo I snapped of an old (75+ years) wooden yacht moored off the Newport Harbor Yacht Club. Normally it has a full cover on it, but the photo shows what the yacht looks like uncovered.
Now back to the Christmas Boat Parade, which was one of the largest I can recall. Friday night's parade was made even larger with an additional 30 (or so) decorated yachts that followed the last entry and continued the armada for another 10 minutes.
For more than 20 years, the yacht El Navigante had an extravaganza of thousands of lights which portrayed colorful fish and jellyfish surrounding a winding 60-foot plus sea dragon with fire shooting out from its mouth.
The Last Hurrah continued their enormous light show from the water to the 30-foot high top deck running the length of the 80-foot yacht. Each year three young ladies in Santa-styled outfits sing live to the accompanied music with an emcee greeting the onlookers and wishing everyone a Merry Christmas.
As I mentioned in last week's column, scores of 18-foot to 30-foot colorful boats were extremely decorated and continued the show stopping light shows of the million dollar larger yachts. In fact, this year they outnumbered the larger yachts.
As we were launching the Judy Belle on Wednesday afternoon at the Dunes launch ramp, their adjacent parking lot was bustling with trailer boats raising their light show entries with help of families and friends.
These participants came from all over Southern California to the delight of the spectators and homeowners. The excitement on their faces was contagious, and they beamed with the Holiday spirit knowing they will be in the "Big Daddy" of all boat parades."
Many years ago it was an extreme delight for Judy and I to watch our young children participate and enjoy being in the parade and wishing Merry Christmas with great vigor to all within hearing distance, and even to those out of range.
This child-like robustness was evident again for us on our boat by way of Zander Barrett, our six-year-old grandson. He's the fifth generation in our family to participate, and was excited to the max. This reminded Judy and I of his mom at that age who was just as eager to witness the spectacle and share greetings to all she could.
From my grandfather to my grandson, our family has enjoyed all boating functions our beautiful Newport Harbor has to offer. Zander has been piloting boats 17-feet to 50-feet from a very young age. I'm proud to say he can operate a large yacht a lot better than many adults in our harbor. If you ask him what the most important part of boating is, he'll tell ya, SAFETY! The second important part is having a good time.
A good time was had by all at the famous Christmas Boat Parade!
Sea Ya,
Skipper Steve