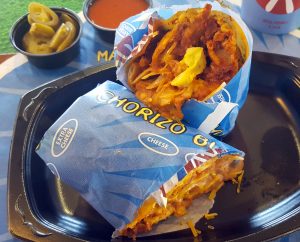 We've driven past the Miguel's Jr. Mexican food restaurant on 17th Street on the border of Costa Mesa and Newport Beach many times but never thought to stop in to check out the menu until last week, when we were invited to attend a media event and sample the cuisine.
We were naturally curious—exactly what is a Miguel's Jr. and who is Miguel?
Turns out that Inland Empire residents have known about Miguel's for more than 40 years.
In 1973, Mike and Mary Vasquez opened Miguel's Restaurant (named after Mike's grandfather) in Corona, followed by a quick service version two years later dubbed Miguel's Jr.
Now, four decades later, there are more than a dozen Miguel's Jr. in southern California, including three in Orange County with more on the way.
We learned that the home-style recipes are inspired by dishes from Mary's childhood growing up in central Mexico and have been handed down over generations.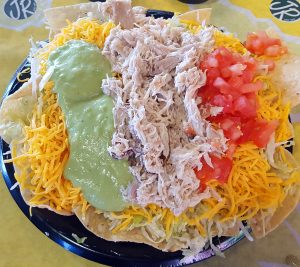 Everyone says they use the freshest ingredients available, but after sampling several items, Christopher said he could taste the difference between Miguel's Jr. and other quick-service/fast food Mexican restaurants.
The menu features a variety of burritos, tacos, quesadillas, nachos, combination plates, salads and tostadas. Miguel's Jr. also recently launched a breakfast menu, which is what caught Christopher's eye—and palate.
He ordered a breakfast chorizo burrito ($6.49) with eggs, refried beans, and chile verde marinated potatoes, plus a taco salad with shredded chicken ($8.39) with refried beans, lettuce, cheese, tomatoes, homemade creamy guacamole, and house dressing, plus tortilla chips.
"This chicken taco salad is terrific—a very generous portion, fresh-tasting ingredients, great dressing," said Christopher. "I doubt I'll be able to finish the burrito, which is huge."
We'll be going back soon to try more menu items—as soon as Catherine is done with her latest diet!
Visit MiguelsJr.com for more information.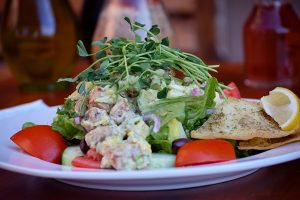 Pita Jungle's Summer Menu
Newport Beach residents may not realize how lucky they are to have Pita Jungle on Bison Avenue in town—it's the only location outside of Arizona!
The restaurant has launched its new Summer Seasonal Kitchen Crafts menu, featuring seven new dishes including avocado hummus, Moroccan gazpacho, turkey kebab koobiideh pita, beef asada shawarma, grilled chicken with zucchini-quinoa, fresh ahi tuna salad, and pain perdu.
This summer menu will be offered through the end of September, followed by a new seasonal crafts menu for fall.
One of the things we like about Pita Jungle is their website. There is a nutritional chart that lists every menu item (downloadable), plus vegan and allergen charts.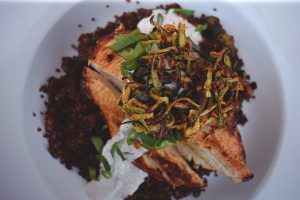 Pita Jungle also has a fabulous Happy Hour from 3 to 6 p.m. daily.
We also love the fact that their wine list includes Fess Parker Frontier Red (a fun blend of several varietals) and Opolo Petite Sirah (one of our favorites) by the glass.
Visit PitaJungle.com for more information.