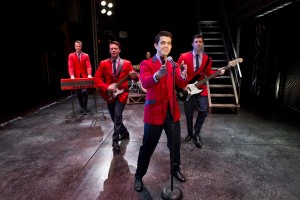 They say timing is everything, and that certainly applies to "Jersey Boys," the Tony Award-winning musical tale of how a bunch of blue-collar boys from New Jersey became the popular vocal group Frankie Valli and the Four Seasons.
A movie version of "Jersey Boys" directed by Clint Eastwood opens this weekend, only a few days before the original stage show opens on June 24 at Segerstrom Center.
Timing was also key for Adam Zelasko, who plays Four Seasons member Nick Massi in "Jersey Boys." Zelasko toured the country with Jersey Boys for two years as a swing (an understudy for several roles), and stepped into the role of Nick Massi last December.
"It's a different set of challenges," said Zelasko. "When you're a swing, you're very in the moment, but doing the show every night in a principal role I get into a groove, and the challenge is making it new and fresh every time instead of just remembering what I should be doing."
Zelasko has toured with several other musicals, but said "Jersey Boys" is ideal because the show often stays in one city for up to six weeks (it plays in Costa Mesa for three weeks) so he doesn't feel like he's living out of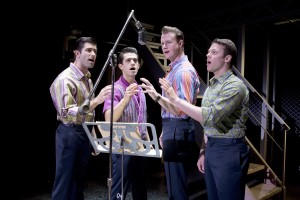 a suitcase.
"But every time you get to a new city, you still have to find places to eat, drug stores, things like that," noted Zelasko. "I live in L.A., so I can go and get my car and use it while we're here."
Zelasko is enthusiastic about the "Jersey Boys" movie, which he said features many of the original cast members. Zelasko actually can be seen in the film's final segment.
"Clint Eastwood wanted to do a finale number, they asked if I could be there. It takes place on a New York street, it's a dance ensemble with all the characters."
He hopes that reaction to the film is similar to how audiences react when they see the live show.
"We were in Cleveland recently, and it was sold out before we got there," said Zelasko. "People come and see the show a second and third time. It's amazing how well people respond to the show. I think it surprises people who don't know the story or who have not seen the show. It's so much fun to lead people through the experience."
For tickets, call (714) 556-2787, or visit SCFTA.org.