Jazz has got a grip on Newport Beach and won't let go. There may not be a traditional jazz club within miles of the city, but thanks to a handful of lounges and hotel venues, there's suddenly a plethora of places to enjoy live jazz music. 
 BAYSIDE RESTAURANT
Bayside is one of the few restaurants that offers live music most nights of the week, meaning customers can almost always count on seeing – and hearing – some of the best local musicians.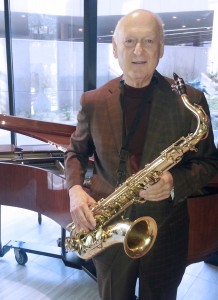 Thursday and Friday nights are focused on jazz, featuring talented pianist Ron Kobayashi and his musical friends including the dynamic Rick Iiles on bass and renowned sax man Jerry Mandel, along with sultry vocalist Debi Raven.
Kobayashi has performed and recorded with such diverse musical legends as Mel Torme and Peter Frampton, and has shared the stage with David Sanborn, David Benoit, and Cirque Du Soleil. In 1992, he performed for President Bill Clinton, and was nominated in the "Best Jazz" category at the 2012 OC Music Awards.
Sax player Jerry Mandel has been joining Kobayashi at various gigs for the past several years and now fronts his own jazz band that plays larger venues, but he loves the intimate setting of Bayside.
Enjoy jazz at Bayside on Thursday nights from 6 to 10 p.m., and on Friday nights during a late night jam session from 10:30 p.m. to 12:30 a.m. Special happy hour menus are available all night. Visit BaysideRestaurant.com for details.
 JAZZ4US
A new nonprofit organization called Jazz4Us has launched a series of jazz concerts at two different venues.
One Sunday each month, Jazz4Us presents a concert at the Bahia Corinthian Yacht Club Bahia, and a weekly jazz concert every Tuesday night at Back Bay Bistro.
Upcoming concerts at the Yacht Club include a September 8 reunion of the musicians that played regularly at Hungry Joes and Kikuya Restaurant in Huntington Beach. The lineup includes Tom Ranier on keyboard, Ron Eshete on guitar, Paul Kreibich on drums, and Luther Hughes on bass.
The Back Bay bistro series continues on September 3 with a tribute to George Gershwin, featuring Jack Prather on bass, Leonard Thompson on digital piano, Paul Kreibich on drums, and vocalists Dewey Erney and Stephanie Haynes. 
The Jazz4Us concerts at Bahia Corinthian Yacht Club seat less than 200 people at tables of 10. Admission is $30 in advance for reserved seating in the front two rows of tables, $20 in advance or $25 at the door for open seating. A buffet is available for $17.50 per person, as is a no-host bar. Concerts start at 6 p.m.
Jazz at the Back Bay Bistro is $15 per person at the door. Doors open at 5:30 p.m., music starts at 6:15 p.m. An appetizer buffet is available for $10, as is a no-host bar.
 For more information and a complete list of concerts and musicians, visit Jazz4Us.Info, or call (949) 322-6342. 
SUNSET JAZZ AT NEWPORT
Newport Beach Marriott Hotel & Spa is hosting Jazzthe 4th annual Sunset Jazz at Newport concert series, held in the Marriott's remodeled Rose Garden every Wednesday evening through September 18.
Upcoming concerts include the Ernie Andrews Quartet plus special guest Rickey Woodard on September 4, Wycliffe Gordon in Hello Pops–A Tribute to Louis Armstrong on September 11, and the Judy Roberts/Greg Fishman Quartet on September 18.
The concerts begin at 6 p.m. Tickets range from $18 to $35 per person depending on seating location. A limited dinner menu is available. More details are available at WestCoastJazzParty.com.