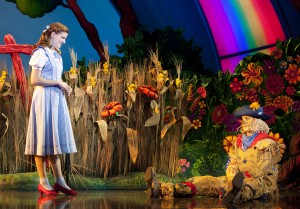 By Christopher Trela & Catherine Del Casale | NB Indy 
We've heaped accolades on Chef Ross Pangilinan at Leatherby's Café Rouge, but the other reason we love dining there is that it's adjacent to Segerstrom Center, which means we can always make it to our seats before the lights dim and the curtain rises.
We recently attended "The Wizard of Oz" at Segerstrom Center, and enjoyed Leatherby's themed "Wizard of Oz" menu before the show.
Chris is a "Wizard of Oz" fan, and has watched the original 1939 movie countless times. So has Catherine, so we were a bit apprehensive about seeing our beloved musical transferred to the stage.
We were surprised and relieved that the story and characters are intact, as are the famous songs, which are perfectly performed by a fantastic cast. A few new songs by Andrew Lloyd Webber and Tim Rice, while not exactly memorable, do fit well within the story.
"The show has seamless transitions between sets that bring technology into the mix," noted Catherine. "The almost imperceptible screen that was lowered during the tornado scene allowed the audience to view the action on stage while suddenly being swept up into projections of the grand tornado."
"The large dollops of humor worked well and made the show even more enjoyable," added Christopher. "Also nice to see so many children in the audience—this is indeed a great opportunity to introduce kids to musical theater."
"The Wizard of Oz" runs through Feb. 23. For more information visit SCFTA.org.