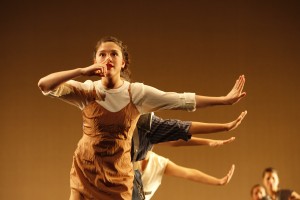 Much in life happens by chance, encounters that can change the course of a life or even- a' la Merce Cunningham- shape a dance.
The former was the case for Corona Del Mar resident and ardent philanthropist Joan Beall, but it was dance that directed her new path when she met Saint Joseph Ballet's Founder and then-Artistic Director Beth Burns in the lobby of Irvine Barclay Theatre after one of the Santa Ana-based arts organization's annual concerts.
The year was 1996, and it just happened that Beall's husband had seen an item in the paper about the show. Without really knowing much about the program, the couple decided to go and check out the show at The Barclay.
The rest, as they say, is history.
Flash forward more than fifteen years, and Saint Joseph Ballet has transitioned into The Wooden Floor. Beall, so taken with Burns and her inspired vision, became a strong supporter and a Board Member.
Current Artistic Director Melanie Ríos-Glaser once again celebrates the transformative nature of dance and the uplifting empowerment of nurtured youth with The Wooden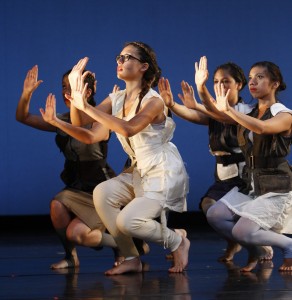 Floor's 30th Annual Concert, Sunrise, at Irvine Barclay Theatre next weekend.
"I'm just so impressed with what The Wooden Floor does for the children in Santa Ana, and Melanie is absolutely magical with them," says Beall, speaking recently by phone on the impact of the respected non-profit's programs, which include after-school tutoring, college prep, and family support in addition to an array of dance classes and the amazing opportunity to collaborate with internationally known choreographers and then perform the often experimental, contemporary pieces onstage at The Barclay.
"It changes a lot of lives, and I am so honored to be a part of it," she continues. "It's changed my life. I think that we all learn from an organization like Saint Joseph Ballet/The Wooden Floor what can actually be done to make a difference. My mom was always very active, and I learned it from her. That's why I think it's so important for the younger generation…to set an example. Everybody should learn the joy of giving. We are active in many things in Orange County, but this is my most favorite."
In honor of The Wooden Floor's three decades of dance, 175 of its young artists will perform in a trio of brand-new works to be presented in Sunrise, with this year's program featuring returning choreographer Mark Haim's "The Land of Nodding," New York-based newcomer Ivy Baldwin's "Time-Lapse Alphabet," and Ríos-Glaser leading over 100 of the youngest dancers in "Billowing Bubbles."
"We love the concert-and it is a concert, not a recital," Beall emphasizes. "It's so special! The kids are part of the development of what goes on stage, and that is very much a part of the project. They work very, very, hard to do it; it's a real privilege and a commitment. I'm sure they will remember it always as a part of growing up. I know we wouldn't miss it!"
The Wooden Floor presents "Sunrise" May 30 through June 1 at Irvine Barclay Theatre, 4242 Campus Dr., Irvine. Performances are 8:00 p.m. nightly, plus a 2:30 p.m. matinee on Saturday. Tickets are $20 for General seating and $50 for Benefit seating, which includes a $30 tax-deductible contribution. There is a half-price discount for children under 13 and for students. For more information call (949) 854-4646 or go to thewoodenfloor.org.