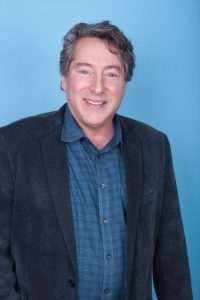 The Laguna Playhouse and its Board of Directors has announced that North Coast Repertory Theatre's Artistic Director David Ellenstein has been appointed as Laguna Playhouse's new Artistic Director. Ellenstein had been named as interim Artistic Director last August after Ellen Richard announced that she resigned her position as Executive Producing Director of the Laguna Playhouse.
Richard had joined the Laguna Playhouse as Executive Director in April 2016 after previous Executive Director Karen Wood resigned after eight years and Richard replaced her.
Richard had led the Playhouse through the most difficult challenge the Playhouse has faced in its 100-year history: being closed for almost two years as a result of the COVID-19 pandemic. During her time at the Playhouse, she oversaw the renovation of the historic theatre building and led the Playhouse to unprecedented financial success, including a 60 percent growth in theatre subscriptions pre-Covid.
In addition to Ellenstein's appointment, North Coast Repertory's Managing Director Bill Kerlin has been named Laguna Playhouse's new Managing Director.
Ellenstein and Kerlin will continue as Artistic and Managing Directors of North Coast Repertory Theatre as well.
A statement from the Laguna Playhouse Board of Directors comments that "The Board of Directors are thrilled that David and Bill have decided to bring their talents to Laguna Beach and lead our theatre. With their depth of experience and inspiring artistic vision we are confident in their ability to take our Playhouse to new heights."
According to Marc Tayer, president of North Coast Rep's Board of Directors, "We are excited to expand our relationship with the Laguna Playhouse, a storied theatre in an adjacent market. David and Bill are a superb team, and will bring proven artistic and operational excellence to the Laguna area, while continuing to delight theatre audiences in San Diego."
Since 2003, Ellenstein has been the Artistic Director of North Coast Repertory Theatre in Solana Beach. He is the former Artistic Director of Los Angeles Repertory Company and Arizona Jewish Theatre. A veteran of over 300 theatrical productions, he has worked at theatres across the country for nearly five decades, including Coconut Grove Playhouse, Paper Mill Playhouse, Alabama, Great Lakes, California Shakespeare Festivals, Portland Stage, 59E59, The Meadowbrook Theatre, and Colony Theatre.
Laguna Playhouse audiences may remember Ellenstein from his role as Einstein in the Playhouse's production of "Picasso at the Lapin Agile."
Kerlin brings over 30 years of finance, marketing, and sales experience to the Laguna Playhouse, including 12 years as Managing Director for North Coast Repertory Theatre and sixteen seasons as the Director of Administration at the legendary Coconut Grove Playhouse in Miami.
Up next at The Laguna Playhouse is "Murder on the Links," billed as "A funny and free-wheeling fast-paced comic mystery saga." For more information, visit www.lagunaplayhouse.com.