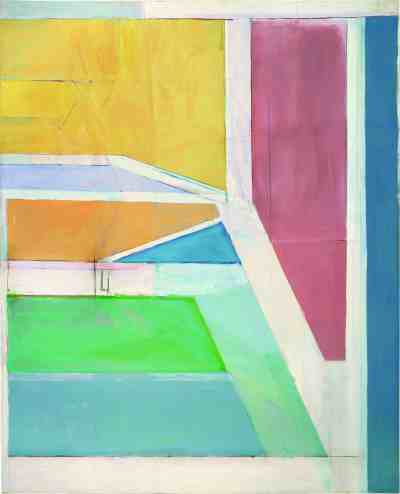 Long anticipated, the Richard Diebenkorn (1922-1993) mega-exhibition "Richard Diebenkorn: The Ocean Park Series" opened on Sunday at the Orange County Museum of Art to brisk attendance by aficionados who had also come to hear his daughter, Gretchen Diebenkorn Grant, speak about her early life with her creative father.
Providing insight into Diebenkorn the man, she added fresh dimensions to the paintings and works on paper (including collages and prints) in the galleries.
"My father is known for his sensitivity to light and color of a particular place. I think it's no accident that his abstract paintings and some figurative ones were titled after places they were made in," she said.
She added that every painting somehow reflected the visual realities of his environment whether he was in Sausalito, Berkeley or Santa Monica.
"When my parents moved to Ocean Park, there was a bleed through of his life and style. Representational paintings became flattened and abstracted," she said of the radical stylistic breakthrough that characterizes the body of work that many regard as the core of his artistic legacy.
The transition becomes apparent in Ocean Park Series #11, an earlier piece that, even though already abstract, vaguely recalls a reclining figure or perhaps a landscape, depending on perception, but lacks the luminosity and depth that set later works like "Ocean Park Series #83" apart.
Characteristically, compositions are carefully delineated and, even though Diebenkorn's brushstrokes appear intuitive, lines act both as complements and counterpoints. Clearly he placed great importance on the process of painting while also giving credence to Grant's allusions to his multi-leveled perfectionism.
Differentiation of shades within hues give an impression of texture and varying intensities of color give the paintings depth. Then again, paintings like Ocean Park #34 and #98 suggest perspective and convey a sense of being there.
What gives curator Sarah Bancroft's selections added appeal is that the works on paper and the paintings are nearly equally compelling. But, regardless of their comparatively unprepossessing size, paintings made on the lids of cigar boxes steal the show. A cigar smoker, Diebenkorn received them as gifts and, once emptied of contents, turned them into works of art that he bestowed upon cherished friends. In a previous interview Bancroft mused that she would like to own at least one of them.
Diebenkorn began the Ocean Park Series in 1967 and ended it in 1988, when he moved his family back to Northern California. Bancroft said that she traveled widely to corral 80 paintings, drawings, and prints from a body of work comprising roughly 140 untitled and only numbered pieces.
"That many works take over the entire museum, but it's exciting to have finally put most of them together as brethren," she said.
The exhibition has been organized by the Modern Art Museum in Fort Worth, where it originated, and the Orange County Museum of Art. It will be here until May 27 and thereafter travel to the Corcoran Gallery of Art in Washington, D.C.