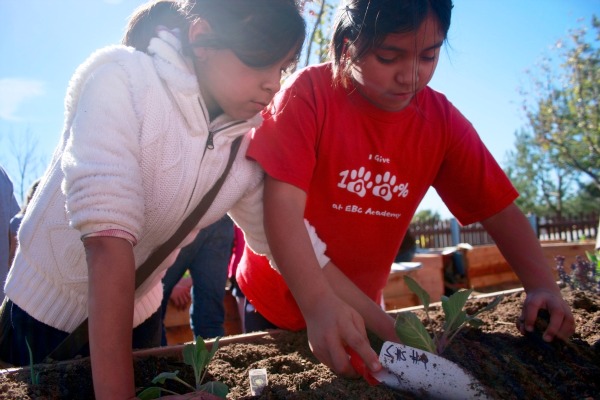 About 200 third graders got their hands dirty Wednesday during a visit to Sage Hill School.
They also learned a little more about the food on their lunch plates.
It was the first group of kids the Newport Coast school hosted in their organic teaching garden. The garden was built last year by a group of students as a service learning project.
"Today is the first realization of kids being in the garden, getting their hands dirty and planting things," said Jason Gregory, the school's director of community life and public purpose. "So today is really exciting."
The kids came from Edward B. Cole Academy and El Sol Academy, both in Santa Ana, and Killybrooke Elementary in Costa Mesa.
The youngsters were visiting Sage as part of the school's Service Learning Program, in which Sage freshmen pair up with third graders, teach them fundamental science and help them with their science projects.
The third graders met with their Sage "buddies" and rotated through different stations around campus doing science experiments in classrooms and hands-on work in the garden.
This will hopefully spark some inspiration for the third graders' science projects, said Sage Director of Communications and Marketing Torrey Olins.
They seemed really excited, said Sage senior Spenser Apramian, who headed the team that started the organic garden last year. A lot of this hasn't been covered in the kids' classroom yet, he added, so this is a fun way for them to learn.
Douglas Zimmer, a teacher from Cole Academy, agreed, although he has specifically made an effort to bring in science into his classroom, including having monarch butterfly habitat in class. The garden and science project buddy system is a really good way to get them interested in science, Zimmer said.
The students rotated through areas in the garden that explained subjects like plant adaptation, soil composition and plant development, Apramian said. They also got to plant their own vegetables, like kale or lettuce, in the garden. The kids will be returning to Sage several times before the end of the year, Apramian said, and they'll be able to watch the plants grow.
"I remember planting my first radish, and that's what really got me interested," in gardening, Apramian said. "So hopefully this will have the same impact on them."
The goal is to create a bio-diverse garden, said Sage Hill science teacher Lauren Fieberg, and plant a variety of vegetables and herbs – as well as create a positive space for learning, she added.
"With our teenagers and the younger generation, there's this disconnect in the food system, between how their food is grown … to what's on their plate," Fieberg said. "So we're trying to bridge that gap."
"It's kind of an amazing experience to watch ninth graders teaching third graders about where their food comes from and how to garden," Fieberg said. "And really the whole point of this is to get them asking questionsn … (and) they're asking a lot of good questions."
The garden is also in the process of expanding. The new area is expected to include an orchard, vineyard, various plant boxes, compost areas, chicken coop, beekeeping yard and more. The students will also use an aquaponic system to raise either catfish or tilapia and cultivate plants in the garden.
Gregory said he hopes to have the hardscape, orchard and chicken coop done for this year. The picket fencing was just finished this week, Gregory said, and the school is currently looking into the details of getting a chicken coop for the educational garden.
Next month, the potting tables will be built, they'll start work on the compost bins and the orchard will hopefully get planted, he added.
The entire project will need to be done in phases, Gregory said.
The expansion is possible after Sage Hill was recently awarded a $73,900 grant by the State Farm Youth Advisory Board. Apramian wrote the grant application over summer with help from Gregory.
Sage Hill students worked Savannah's Organic Ranch organization to create the curriculum to teach local elementary school students.
A student's ability to plant something with their own hands, take care of it and then be able to eat it, is irreplaceable, Gregory said in November.
"[This garden will] expose them to something they (may) never have been exposed to otherwise," he said.
Apramian also hopes to incorporate the food grown in the garden into the school menu.
The garden has evolved a lot since it first started, Fieberg said.
"It started off as nothing, just piece of land," Apramian said last year. "It grew to something so big."