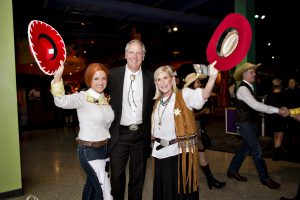 More than 350 Orange County philanthropists, business and community leaders gathered on Saturday, September 24 for Discovery Cube's 'Wild West at the Cube' annual gala, which commemorated the Cube's growth throughout the year and raised $1,151,425 for science education.
Co-chaired by Newport Beach resident Janet Ray along with Mechelle Lawrence-Adams., the event honored the Anaheim Ducks Hockey Club and Jay Witzling, former vice president and deputy program manager of Boeing's Delta Rocket program, with prestigious Cube Awards for their outstanding contributions to the Discovery Science Foundation and Discovery Cube.
 "This event was a great way to honor all the accomplishments of Discovery Cube over the past year and our supporters whose endless efforts made it all possible," said Joe Adams, CEO of the Discovery Science Foundation and President of Discovery Cube in Orange County, "This year has been nothing short of amazing and we know that Discovery Cube will continue to inspire young minds through engaging and hands-on science education."
In addition to its facilities in Santa Ana and Los Angeles, Discovery Cube recently opened Ocean Quest (formerly ExplorOcean) in Newport Beach as a base of operations for ocean-science education and programs.
The celebratory event, held on-site at Discovery Cube, kicked off with a cocktail reception featuring tray passed hors d'oeuvres, opportunity drawings, a trick roper greeting guests, as well as poker and a saloon girl dance trio in keeping with the Wild West theme. The dinner began with the live auction and fund-a-need, followed by the award presentations.  
For more information, visit discoverycube.org.