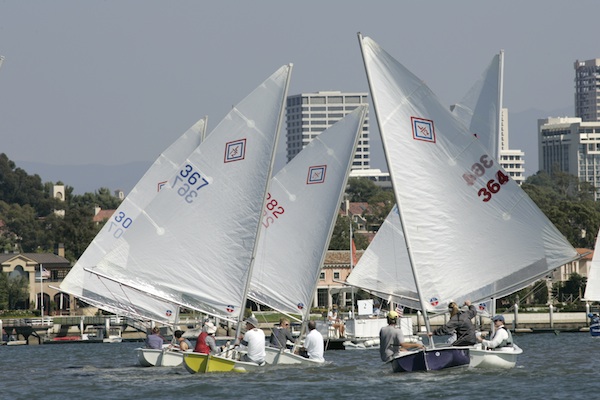 I've been out on the water nearly every weekend lately, and frankly, I'm not getting enough time out on the water right now.
One of the side benefits of recent Newport dredging project is that many of our bay's traditional mooring fields have been temporarily relocated.  Mooring fields that have been in place for over fifty years have been temporarily removed, and there are now broad expanses of open water.  As the Harbor 20 fleet saw two weeks ago, the racing in Newport Harbor has never been better than it is right now.
My lead story this week is about the "Barney Lehmans," one of the oldest regattas in the Bay.  But an important side story from of my weekend is how great the sailboat racing is on Newport Harbor right now.
For the last few weeks, several legacy mooring fields adjacent to the main Turning Basin have been temporarily removed to support the harbor's dredging project.  With these mooring fields removed, there are now broad expanses of open water on our bay that are perfect for dinghy racing.
From a sailing/tactical perspective, you can throw out everything you've learned about the bay these last five or six decades – with the moorings removed and broad open expanses of open water, even in a westerly we actually had a left side to the race course (the left side is usually blocked by moorings).  The tidal flows have also increased and shifted, and increasingly racers are realizing they need to be in tune with tidal currents.
I've grown up accepting that course options for bay racing are limited and often skewed (always hit that right corner!) – in certain wind conditions there were relatively few tactical options, and experienced racers often ended up with the sailing equivalent of an orderly parade line around a handful of buoys.
Hopefully our Harbor Commission members are paying attention to this unique time on our bay (i.e. sans moorings).  The unfortunate likelihood is that economics will prevail and mooring fields will return to their original configurations (wiping out our bay's best sailing venue).
And from this sailor's perspective on the bay, here's to hoping that our Harbor Commissioners (a few of whom are also active sailors) will at least give some consideration about whether there are options to preserve more of the open water in our harbor.
Barney Lehman Championship (aka "the Barney's"), NHYC (Lehman 12s) Oct. 13-14 
NHYC hosted the 62nd Barney Lehman 12 Championships this weekend for the venerable Lehman 12 class.
Lehman 12s remain the ''grandfather" of local dinghy racing, and these little 12-foot boats have one of the longest continuous tenures in our harbor as a competitive local one-design class.
By modern design standards, the Lehman 12 is not a good boat.  The boats are typically very soft and flexible, and bend with every puff.  Further, L12 rudders and daggerboards are made from thin flat stock quarter-inch aluminum plates that bend continually during a race; whenever these boards flex under load and during maneuvers, it makes the Lehman's hyper-sensitive to waves (even ripples?), wakes, puffs and wind shifts.  Despite these faults, the Lehman has a huge following among top local dinghy sailors.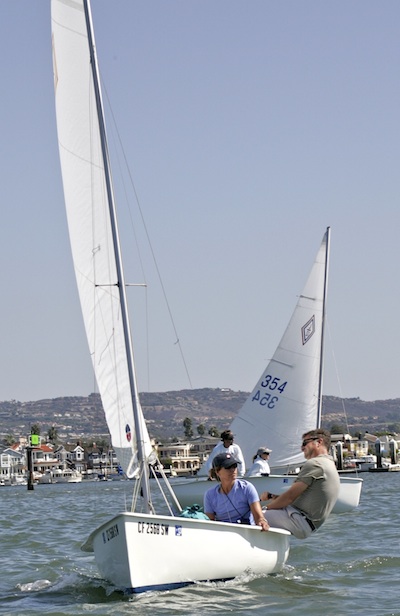 Now, I'd love to write the rest of this article about how brilliant my sailing was last weekend as I sailed to victory in this years Barneys.  This definitely wasn't the case.
Last weekend I managed to eke out a three-point win over a bunch of former collegiate sailing stars, including Charlie Buckingham and Mikee Anderson, both of whom were recent Collegiate Sailors of the Year.  We had a relatively small L12 fleet out, but every boat was sailed by top dinghy sailors.
I've only been sailing Lehmans for about 25 years, so I've had the fortune of watching "Charlie B' transition from an 8-year-old crew to a "20-something" skipper.  Likewise Mikee is our L12 class stalwart who drags out all his sailing friends (and former competitors).
When I looked at final scores, the reality in my world is that both Charlie and Mikee had convenient breakdowns (at least from my perspective) during the first day of racing that kept them from winning.  Charlie's headstay pulled out of his mast, and a broken shroud kept Mikee from finishing a race.
Despite these issues, Charlie and Mikee were the best sailors on the water last weekend.  Keep in mind too, Lehmans are a class where new boats are often "just" 15 years old, and the old boats, like Mikee's, can often be 40 or 50 or more years old.  Frankly, if it were it not a couple of these convenient breakdowns, our young sailors would have dominated the 2012 Barneys.
Jim Buckingham and I did our best to represent the old guard of the Lehman fleet.  I was sailing with Elizabeth Wiley in her husband's new(ish) Lehman (a boat maybe 10 years old), and our boat definitely held together better in the 8-to-12-knot breezes than many of our competitors'.
Jim and Mary Buckingham finished third overall, just behind their son Charlie.  Maybe this is a case of passing the baton, as it may be the first time the senior Buckinghams (who have won more Lehman championships than anyone) finished behind their son Charlie in the championships.
In any event, I'm thrilled to take my win this time, but I'm already thinking how much I need to up my game if I want to beat Charlie next year.
Upcoming Sailing Events:
Oct 20 – Sail for the Visually Impaired – ALYC
Oct 21 – Jean Schenk Team Race Regatta – NHYC (Invitational, H20)
Oct 21 – Halloween Regatta – LIYC – (Sabot, Laser)
Oct 27-28 – Corinthian Cup – BCYC (Sabot, Laser)
Oct 27-28 – Pacific Coast College Sloop Championships – UCI/BYC (College, J22)
Nov 3-4 – Sunkist Series No. 1 – BYC (One Design Saturday; PHRF Sunday)
Nov 4 – Winter Series No. 1 – NHYC (H20, L12, Finn)