"Laundry, parenthood, and indeed, life itself, is entirely how you look at it. So it is here in the laundry room where I begin. Because I believe if you can find joy between the lint and never-ending stream of dirty socks, you can find joy everywhere, everyday."
So says the Newport Indy's own Jill Fales in the foreword of her new book, "My Laundry Museum and Other Messy Gifts of Motherhood."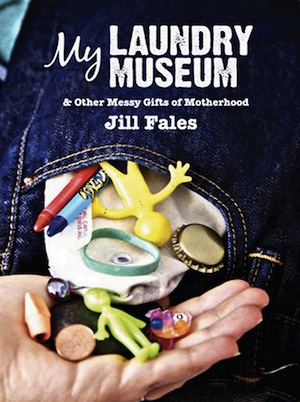 A collection of essays waxing realistic about all things family, the book revisits the most beloved of Fales' popular "Mom's Voice" columns. She reminds us not only to find joy in the mundane, but also to stop and smell the roses (or gym socks), and to stop taking ourselves so seriously.
I am privileged to count the Fales family among our close friends, and I can assure you that this is a lesson I am always learning from them – slow down, keep it simple, enjoy THIS moment in time and, above all, keep it real.
And real Fales is.
Where most writers would leave out the part about dad breaking wind in the tent when chronicling the family campout, she invites us to climb in and take a whiff. When discussing tooth fairy duties, she admits to occasionally having to concoct an on-the-spot plan B, after failing to complete the required covert operation. When considering the fairy-tale experience we call "The Holidays," she had this to say:
"As much as I love the romantic fantasy, if I were to find myself as a passenger in a horse-drawn sleigh, before any dashing began, the kids would fight over who would sit next to me. During the ride, the sound of jingling bells would be drowned out by people telling me they are thirsty, or hungry, or someone hit them. The gliding along would be short-lived because we would have to pull over for one of the kids to pee.
"At the end of the ride, someone would try to sell me a $35 5×7 photograph of us in the sleigh."
I dare you to find me any mother on the planet who doesn't know that's the truth.
What I enjoy most about Fales' writing, however, is that it doesn't only speak to moms in the know. At the book launch party, I had one guest comment to me that she was looking forward to reading the book, even though she didn't have children. I assured her that children were not a prerequisite to not only enjoying, but also finding wisdom in this woman's experiences.
As I turned away, and saw the line of eager book-buyers wending its way down the aisle and out of sight, it hit me as to why this was true. Although she had been signing books for more than an hour, and had to have a mean case of writer's cramp, Fales greeted each new guest with a genuine smile.
For each customer – each friend – she had a heartfelt hello, nevermind the line behind them.  As is true in the rest of her life, the room held no strangers.
In her book, when discussing her hopes for her children, Fales had this to say:
"If their moral fabric cannot be easily torn, if they give without any thought of recognition, if loyalty, hard work, and integrity define their daily existence, if they grow to appreciate the importance of love, kinship, tradition, laughter, gratitude, and celebration, then my Christmas, Hanukkah, and birthday wishes will have all come true."
And if they aren't afraid to fart in the tent.
With a mother like Jill Fales, I'd say it's a safe bet those kids will be making all of the above wishes come true.
To purchase a copy of Jill's book, and find out how to start your own "laundry museum," please visit jillfales.com