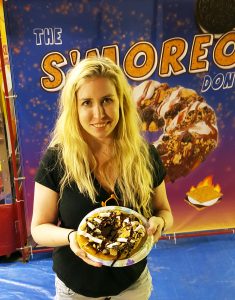 By Christopher Trela & Catherine Del Casale | NB Indy
 Pepsi cola donut dog. French toast bacon bombs. Deep fried butter balls. Chicken in a waffle on a stick. Pickle fries. Bacon-wrapped bake potato.
Yes, the OC Fair has returned with another batch of outrageous culinary concoctions guaranteed to dazzle your taste buds while hardening your arteries and sending your daily calorie count through the roof.
Of course, that's the point of the myriad new food items at this year's fair, which is themed "Get Your Fair Face On!"
We had our foodie faces on last weekend when we sampled more than a dozen crazy new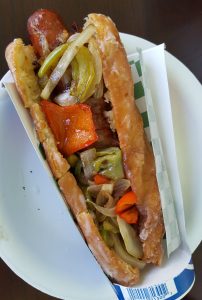 food items at the fair. Our favorites this year:
 Pepsi Cola Donut Dog at Bacon-a Fair: A quarter pound beef hot dog, wrapped with a quarter pound of bacon, grilled, served in a donut bun with a Pepsi reduction sauce drizzled on top. One of our favorite new fair foods this year. Catherine's comments: "The bacon wrapped hot dog was crispy on the outside and had a great smoky flavor. The glazed donut bun added a sweet element that paired great with the savory dish. The Pepsi cola reduction drizzled on top was an added bonus."
 French Toast Bacon Bombs at Bacon-a-Fair: Sweet dough stuffed with cream cheese and wrapped in bacon, then deep-fried and rolled in cinnamon sugar. For us, it's the cream cheese that made this an over-the-top delight. Of course, wrapping it in bacon and deep frying it doesn't hurt either.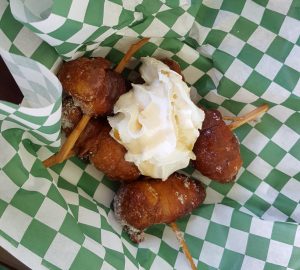 Bacon-Wrapped Baked Potato at Bacon-a-Fair: A giant one-pound potato wrapped in a half pound of bacon, slow cooked in a wood-fired smoker oven. Served with butter and, in our case, sour cream (other options include grilled veggies, blue cheese and sauces). Admittedly difficult to cut with a plastic knife, yet tasty and filling.
 Truffle Bacon Gouda Fries at Bacon-a-Fair: No we don't live at Bacon-a-Fair, but by coincidence they serve fun and decadent treats, all made with bacon. The truffle bacon Gouda fries are not new, but they are a must-have every year. The cheese is aged Gouda, and who else at a fair but Bacon-a-Fair owner Mike Peterson is crazy enough to add truffle oil to a dish? Add some bacon on top, and you're good to go.
 S'moreo Texas Donut: Texas-sized doughnut topped with chocolate drizzle, Oreo cookie crumble, graham cracker crumbs and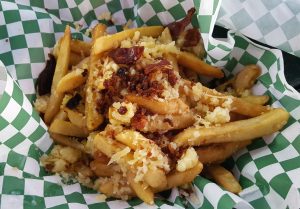 marshmallow cream. This is an OMG treat that is meant to be shared.
 Chicken in a Waffle On a Stick at Chicken Charlie's: This is a hearty meal in itself. The chicken tenders are cooked inside the waffle, so the batter is extra thick. It's served on a stick, with a side of maple syrup. Another one to share with friends.
 Pork Belly Bacon Dog at Biggy's: Another popular food stand is Biggy's, and this is one of the reasons. Two feet of bacon are wrapped around a slow-smoked pork belly that is dipped into a corn dog batter and deep fried. One bite and you'll hear your arteries hardening, but don't listen and enjoy this "only-at-the-fair" treat.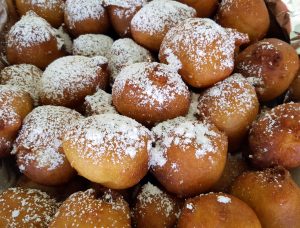 Deep Fried Butter Balls at Fried-a-Fair: Christopher took one bite of a butter ball and he was hooked. These delightful little treats are basically a scoop of butter that's been frozen, then deep fried and served hot with powdered sugar and maple syrup. "Wow" was all he could say. Catherine said "the way the butter melts all over the batter from the inside reminds me of a super-buttered pancake." They come four to a serving, but you'll want to share the goodness.
 Pickle Fries at Pickle O'Pete's: Christopher love pickles, so it's no surprise he loved these pickle fries, which are basically slices of pickles that have been breaded and then deep fried.
 Cheddar Bacon Garlic Parmesan Tasti Chips: We absolutely love Tasti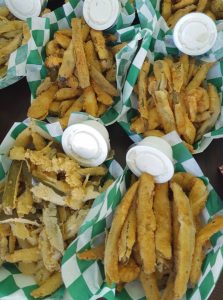 Chips and buy them whenever we go to the Fair. They offer a variety of flavors, from plain (which are fabulous) to various toppings. Careful—they are addicting!
 Bacon Cheddar Brat Burger at Grant's Tasti Burger: Massive burger that combines a bratwurst and an Angus beef patty with cheddar, chopped candied pecans, Applewood smoked bacon, Sriracha Bourbon and chipotle sauces, lettuce and tomatoes and served inside a pretzel bun.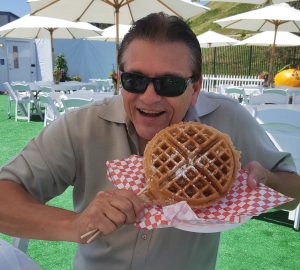 Want to try some of this decadent food without putting a big dent in your wallet—or your stomach? Food lovers can sample their way through the OC Fair on Thursdays from Noon to 4 p.m. with $2 samples during the Taste of Fair Food promotion. Fair admission is required and samples vary per vendor per week.
Daily culinary demonstrations can be enjoyed for free in the OC Promenade throughout the run of Fair.
The OC Fair is open Wednesday – Sunday, through August 14. For more information, visit ocfair.com.