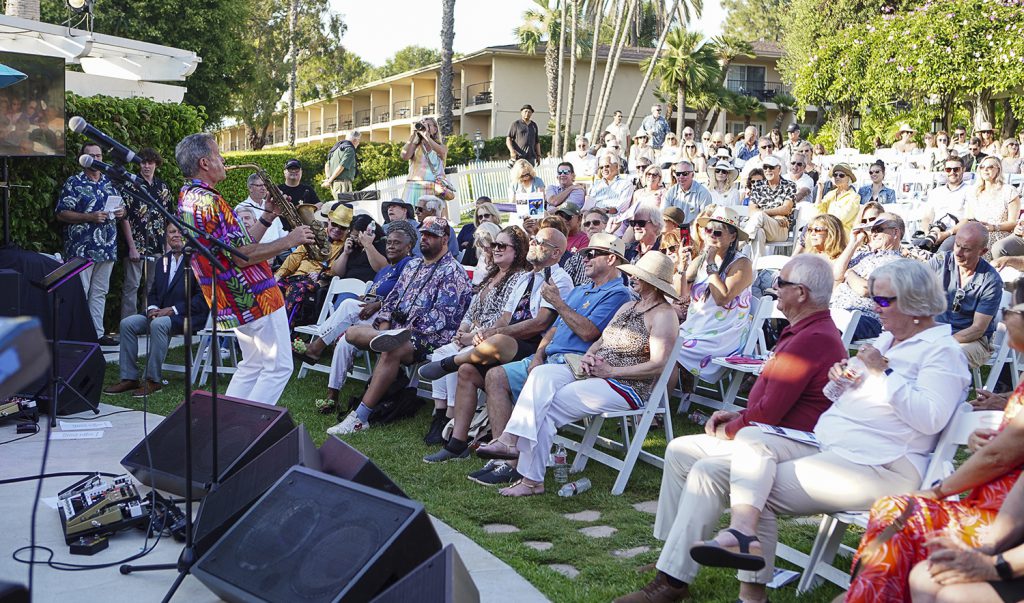 The smooth sounds of saxophonist Eric Marienthal and his band wafted over the audience gathered at the Hyatt Regency Newport Beach on Sunday, July 16 to enjoy live jazz music while raising money for High Hopes Head Injury Program, a nonprofit organization dedicated to helping individuals recover from traumatic brain injuries.
More than 700 guests attended the event, which raised $120,000 for High Hopes.
"For the past 24 years, the Eric Marienthal and Friends Concert has been a driving force behind the success of the High Hopes Brain Injury Program," said Mark Desmond, the visionary behind the program's development and its Director/Instructor. He acknowledged the Hyatt Regency for graciously hosting the event in their magnificent setting, stating, "We are overwhelmed with gratitude for this beautiful venue. Our heartfelt thanks go out to the Hyatt Regency for their unwavering support."
Prior to the concert was a VIP dining experience with cuisine provided by Tulsa Rib Company and music by the Ron Kobayashi Trio with special guest artist, singer, and songwriter Mary Desmond (the daughter of High Hopes founder Mark Desmond).
After the doors to the beautiful outdoor amphitheater opened, SiriusXM On Air Personality Talaya Trigueros served as Master of Ceremonies along with Mark Desmond. The auctioneer for the evening was Kevin O'Callaghan.
Guests bid on a robust collection of silent auction items ranging from concert and theater tickets to jewelry, toys and stuffed animals.
The Hyatt provided cheeses, fruits, veggies, and light bites.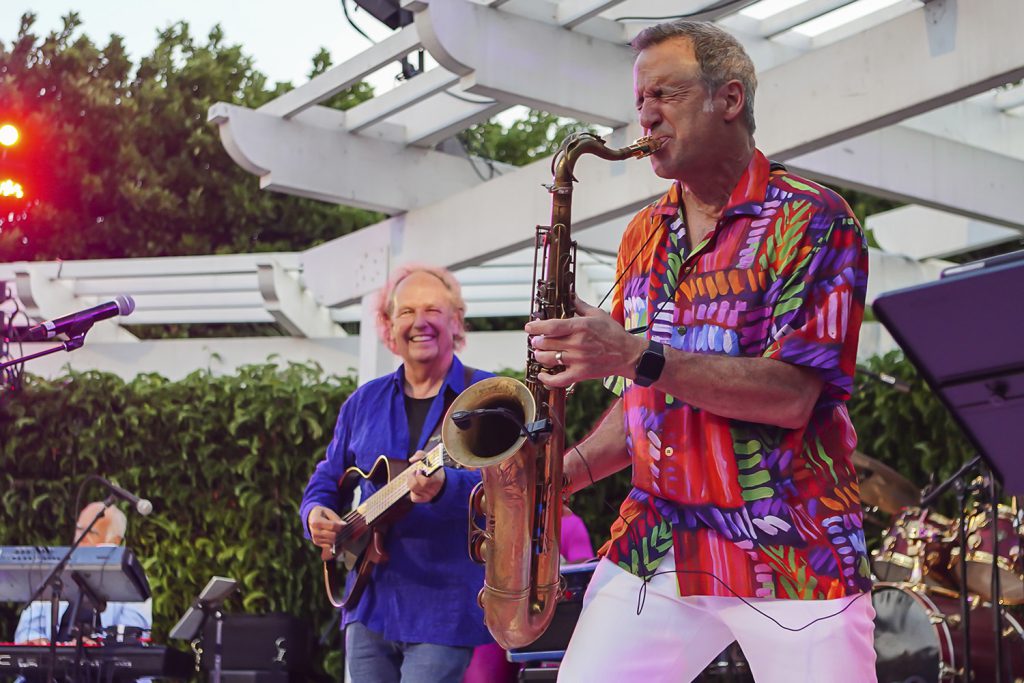 Marienthal, who won two Grammy Awards as a member of Chick Corea's band, entertained the crowd with his classic hits plus newer material.
Marienthal's special guest was Grammy-winning guitarist Lee Ritenour. The surprise guest singer was Mary Desmond, who sang "Orange Colored Sky" by Nat King Cole.
Marienthal's all-star band consisted of Andre Berry on bass guitar, Mitch Forman on keyboards, Joel Taylor on drums, Dean Brown on guitar, and Joey De Leon on percussion.
Beloved music icon Pat Boone was honored with the High Hopes Lifetime Achievement Award. Accepting the award on his behalf was Mike Michaelis, husband of Lindy Boone Michaels, one of Boone's daughters.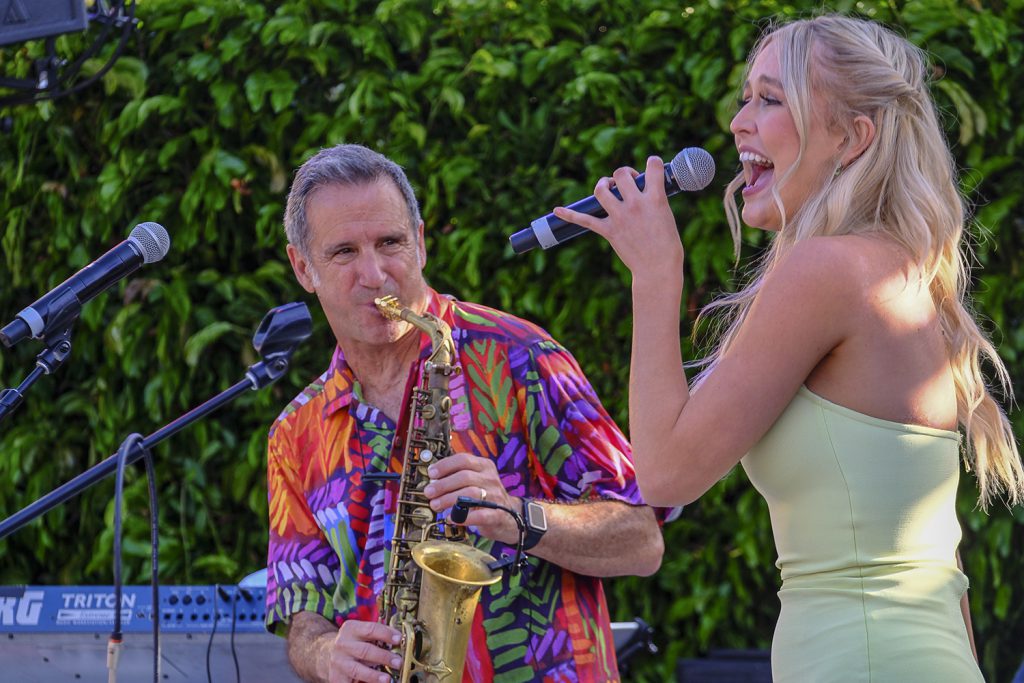 In 2001, Boone's grandson, Ryan (son of Lindy) fell through a three-story skylight and landed on the concrete below. The family sought help at High Hopes for Ryan's traumatic brain injury. Pat and his late wife Shirley were supporters of High Hopes for many years.
High Hopes board president Bob Vermes' daughter, Britney, talked about suffering a stroke about a year ago and couldn't walk or use her left arm. Thanks to High Hopes, she can now use her arm and hand, walk, and even drive.
"We are so lucky to have High Hopes in Orange County, and I'm thankful for Mark Desmond for everything he has done for me," she told the audience.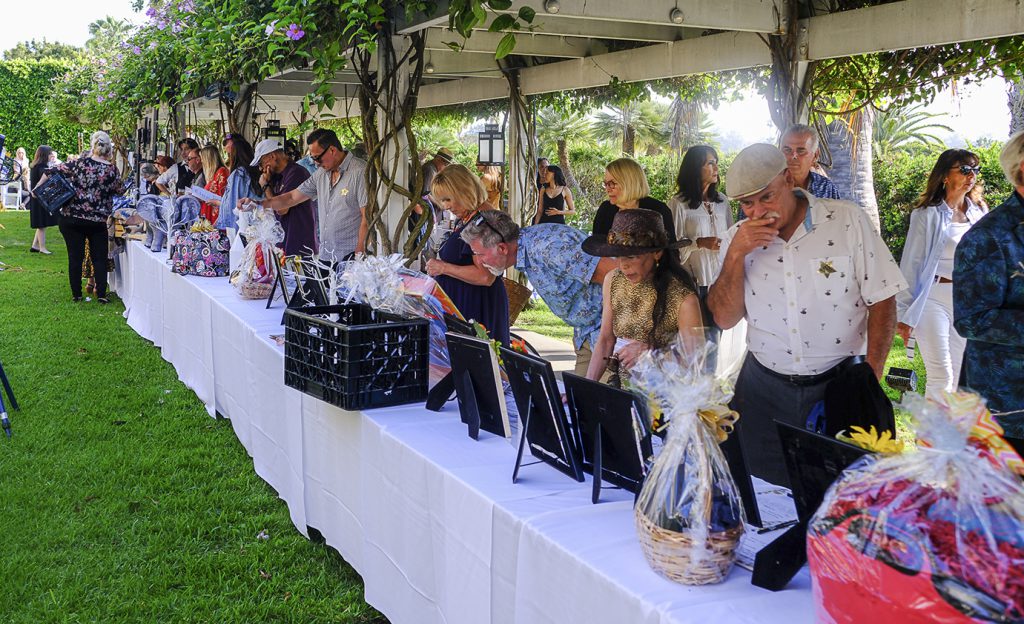 The live auction featured a number of specialty and luxury items, including a one-week trip on the Smooth Jazz Cruise with Eric Marienthal, Sunday brunch for eight at Spaghettini's in Seal Beach, a signed Eagles jersey, tickets to Segerstrom Center shows, and a vintage radio.
Last year, Eric's colorful shirt he was wearing was auctioned off, so this year, the shirt was up for grabs again, as well as lunch with Mark Desmond. Both had bidders battling it out to win these one-of-a-kind items.
Sponsors for the event were H&H Lee Foundation, Lincoln Consulting Group, Carol and James Reed, Xerox, The Hyatt Regency Newport Beach, KJAZ 88.1 FM 88.5FM HD, The Keith Family Fund at California Community Foundation, 94.7 The Wave, Smooth Jazz News, Xerox, Sunwest Bank, Rainone & Jones Families, Millie and Severson General Contractors and Stirling Properties.
For more information, visit High Hopes at www.HighHopesBrainInjury.org.