Special to the Indy by OCSocialScene.com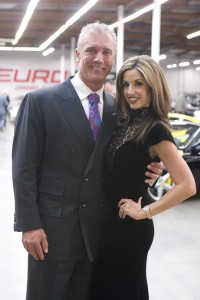 The Orange County Chapter of Childhelp and Eurocar presented the 5th Annual Eurocar Charitable Fundraiser, an Evening of Cars and Local Stars at the Eurocar Showroom in Costa Mesa, helping the organization finish out 2012 on a bright note.
The owners of Eurocar, Tilo & Paula Steurer, are committed to Childhelp's goal of making the lives of abused and neglected children better.
Debra Violette, Vice President of The Orange County Chapter of Childhelp, was on hand to answer questions about Childhelp, along with Patti Edwards who is on the Childhelp California State Board.
It was a fun evening of admiring the many spectacular cars along with great music and wonderful drinks and appetizers, as well as a Virtual GT sponsored race car driving demo with professional racers.
In order to attend the event, each of the 400 guests brought a gift for a child. The event raised 600 gifts and store gift cards for the children in Childhelp's care. They were distributed to the local group homes in Costa Mesa and the Village in Beaumont, CA. It made for a very merry Christmas for the Childhelp children.
Childhelp has brought the light of hope and healing into the lives of countless children for over 50 years. CEO and Co-Founder Sara O'Meara and President and Co-Founder Yvonne Fedderson started Childhelp in 1959, establishing it as a leading national non-profit organization dedicated to helping victims of child abuse, neglect and at risk children. Childhelp's approach focuses on advocacy, prevention, treatment, and community outreach.
Childhelp's programs and services include residential treatment services, children's advocacy centers, therapeutic foster care, group homes and child abuse prevention, education, and training. Childhelp also created the Childhelp National Day of Hope, held each April during National Child Abuse Prevention Month that mobilizes people across America to join the fight against child abuse.