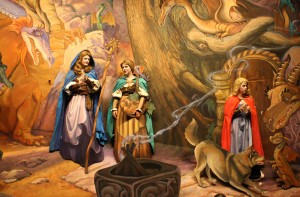 Can you stand still for 90 seconds? If so, the Pageant of the Masters wants you.
Laguna Beach's iconic Pageant of the Masters celebrates the 80th birthday of living pictures during the summer of 2013, and they're looking for men, women and children of all sizes and ages are needed to be cast members in the world's most famous presentation of tableaux vivants.
Casting call will be held at the Irvine Bowl Park (650 Laguna Canyon Road, Laguna Beach, CA) during the following times:
Saturday, January 5: 7 p.m. – 9 p.m.
Sunday, January 6: 2 p.m. – 5 p.m.
Thursday, January 10: 7 p.m. –  9 p.m.
Next summer's performances of the Pageant of the Masters – dubbed The Big Picture – will run nightly at 8:30 p.m. from July 7 to August 31.
Casting call is a fun experience for all involved. Prospective volunteers will be measured and photographed, enjoy refreshments and meet the behind-the-scenes Pageant staff. No theater experience is necessary. The only requirement is the ability to stand still and have fun.
Pageant director Diane Challis Davy commented, "It takes over 500 volunteers, both onstage and behind-the-scenes, to put on the Pageant. We wouldn't have a show without our volunteers! They have so much fun backstage, volunteers return year after year to participate."
Pageant volunteers are also needed for positions in the wardrobe, make up, and headdress departments, as well as cast area coordinators and refreshment servers.
Volunteering for the Pageant is a great way to spend a summer. It's common to have several generations of the same family volunteering for different aspects of the show. By volunteering for the Pageant, students can earn credit towards community service requirements. And don't worry–while the Pageant is staged every night, most roles are double cast so volunteers usually have every other week off.
And for those looking to nab the best seats to the 2013 Pageant of the Masters, tickets are on sale now. Ticket prices range from $15 to $220. Call (800) 487-3378 or visit PageantTickets.com
NOTEWORTHY JANUARY SHOWS
"Dr. Cook's Garden" may sound like an innocent name for a play, but it's penned by Ira Levin, the same devious mind that brought the world "Rosemary's Baby," "Deathtrap," "Boys from Brazil," and "The Stepford Wives," so audiences are guaranteed a wild theatrical ride. Described as a chilling suspense melodrama, the play revolves around an idyllic Vermont village and the kindly doctor who wants to keep it that way–by any means possible. Local actor-turned-director Brian Page helms this show for Newport Theatre Arts Center January 25 – February 24. Tickets are $16 – $21. Call (949) 631-0288 or visit NTAConline.com
"War Horse" has been the darling of Broadway for more than a year, and won five 2011 Tony Awards including Best Play. This moving and imaginative drama is filled with stirring music and songs, but at its heart are astonishing life-sized puppets created by South Africa's Handspring Puppet Company that bring to live breathing, galloping, charging horses strong enough for men to ride. It comes to Segerstrom Center for the Arts January 22 – February 3. Tickets start at $20. Call (714) 556-2787 or visit SCFTA.org.