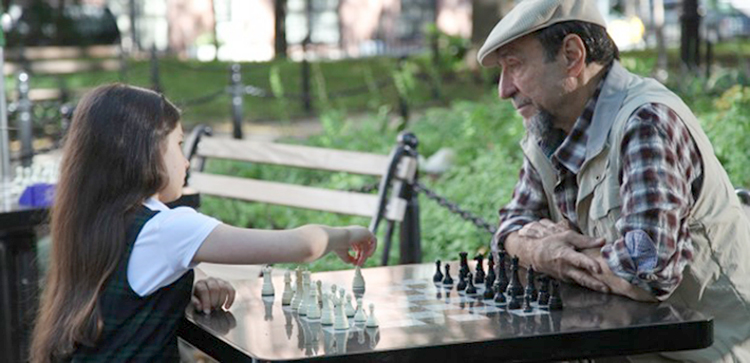 Some movies are catalysts for great discussions. "A Little Game" could easily be one of those for your family.
"A Little Game" is a touching family film about a gifted 10 year-old girl named Max, a New York public school girl who struggles as she tries to fit in and make friends after her parents transfer her to an uptown all-girls private academy.
Her wealthy classmates are not welcoming to the newcomer, especially when Max's intelligence gets notice and praise from her teachers.
Max's parents (Ralph Macchio from "The Karate Kid" and "My Cousin Vinny," and Janeane Garofalo from "Ratatouille") scrimped and scraped to pay her tuition, thinking the private school was the right place to nurture Max's gifted mind.
Their hard work and long hours leave Max and her younger sister alone more than they'd like, and sometimes YaYa (Olympia Dukakis from "Moonstruck"), their beloved grandmother steps in.
Max's world is further upset when YaYa dies. One of Max's new teachers suggests she join the chess club, where she is then further ridiculed by her self-appointed archenemy for being clueless about the game.
More motivated to learn than ever, Max asks a grizzled, grumpy chess master named Norman (F. Murray Abraham from "Scarface") to teach her.
Norm is won over by her resolve and so begins an unlikely friendship at Washington Square Park where Norm only teaches Max one move a day.
Norm slowly reveals the rules of the game by using the city around her to teach not only secrets of chess, but about resilience, perseverance, working hard and making the right choices in life. He teaches names of the chess pieces in association with realities about life: "Pawns are like kids, you'd better get a friend."
The day finally comes when Max and her rival play against each other, and the stakes are high. All Max has learned comes together in a life-changing game.
While the movie moves at a slower pace than some, it's refreshing in a different way and gives time for important lessons to sink in, lessons such as: "Make the best choices you can;" "Don't just let life happen to you;" and "Thinking about quitting is the same thing as quitting."
"A Little Game" is a film that could lead to positive family discussions about parents trying hard to decide what is best for each child, sacrifice, loyalty, friendship, bullying, perseverance, life and death, and the inevitability of change.
"A Little Game" is written and directed by Evan Oppenheimer. Max is played by Makenna Ballard, a charming and engaging young actress.
The movie will be screened Saturday, April 26 at 2 p.m. at South Coast Village and Thursday, May 1 at 5:15 p.m. at Fashion Island Cinema.
For tickets, visit NewportBeachFilmFest.com.
Cindy can be reached at [email protected]