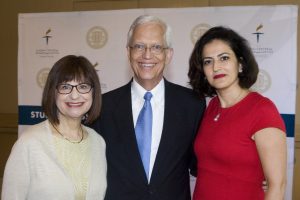 "Most Americans think slavery ended a long time ago, but it's alive and well today," keynote speaker Ernie Allen said to over 300 people attending the recent Annual Priceless Luncheon to End Human Trafficking at The Island Hotel in Newport Center.
Vanguard University's Global Center for Women and Justice hosted the annual fundraiser to bring national attention to human trafficking. The event, chaired by Jasmine Shodja, vice president of Wells Fargo, raised over $212,000 to fund human trafficking initiatives in Orange County, where over 350 trafficking victims have been identified since 2004.
"We're so blessed to be able to come here today to learn about this issue," Jasmine said.  "We'd like to give you powerful tools to go out and spread the word."
Shodja welcomed attendees and recognized several public servants in the audience, including U.S. Congressman Ed Royce, California State Senator John Moorlach, Newport Beach Mayor Diane Dixon, and Laguna Niguel Mayor Laurie Davies,
Deborah Anderson, president of Anderson Insurance & Investment Service, was the emcee.
"Human Trafficking is considered a public health crisis," she said. "We want to educate, collaborate and prevent
human trafficking. "
Deborah presented startling facts about trafficking globally and locally:
According to the Global Slavery Index. 45.8 million people are enslaved in the world today.
In 2012-2014, 584 human trafficking victims in Orange County were identified and received victim services by local agencies; 383 of them were US citizens and 169 were minors.
1 in 5 of 11,800 runaways reported to the National Center for Missing and Exploited children in 2015 were likely sex trafficking victims.
Dr. Sandra Morgan, PhD, RN, director of the Global Center for Women and Justice, informed and inspired the audience.
"Just blocks from Disneyland, the happiest place on earth, young women, girls and boys are being sold," she said. "A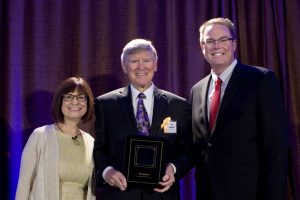 victim in Orange County has a higher quota to reach than in other places because of perceived affluence. We have to be a voice for the silent victims. Collaboration is how we draw a tighter safety net for our children."
Dr. Morgan attributed much of their accomplishments to Vanguard's support.  For 14 years, Vanguard's GCWJ has provided training and resources to enable leaders to promote justice for victims of human trafficking and modern day slavery. The GCWJ, a faith-based organization, provides education, research, advocacy and collaboration with students, educators, law enforcement, health-care and community leaders.
Dr. Morgan also applauded the community.
"This event is an example of the intersection of joy and justice," she said. "We celebrate and honor the community's support with joy as they provide resources that will serve the most vulnerable and provide justice."
Next Ernie Allen with the National Center for Missing and Exploited Children elaborated on three points: Trafficking is not only criminal, it's big business, with conservative estimates being $150 billion a year industry, with all governmental appropriations to fight it totaling only $124 million; trafficking is slavery and victims need help; this crime has migrated from the streets to the internet, and internet sites need to be held responsible for what is shown.
"There's enormous demand in this country for sex with kids; we must hold customers responsible for their crime," he said. "There's growing demand for younger children, even pre-verbal, because they can't talk about it."
"The average age of children accessing pornography is 11, with 89 percent of the images involve physical aggression," he said. "It is harming the developing brains of young kids."
The audience was encouraged to spread the word, support the work of GCWJ, help develop new laws, and contribute to five strategic projects, which help locally, nationally and globally.
The luncheon closed with "Diamond Awards" to Honorable Maria Hernandez, the Salvation Army-Orange County Anti-Trafficking Services, and Alicia Zayas, Clinical Social Worker.
To learn more, visit vanguard.edu/gcwj.
Cindy can be reached at [email protected]