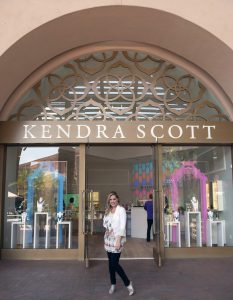 Do you ever feel that slight bit of guilt when buying something nice for yourself when there are so many others less fortunate? Now you can give back while picking up some great jewelry from Kendra Scott's collection.
Fashion Island jewelry store Kendra Scott is hosting a "Kendra Gives Back Party" on Wednesday, Oct. 12 from 5 to 8 p.m. to benefit MOMS Orange County, a nonprofit organization serving low-income pregnant women. Twenty percent of sales from the event will help fund programs and services to low-income families and communities that result in healthy babies and happy families.
Guests will enjoy complimentary "sips and sweets" while they shop and celebrate the launch of Kendra Scott's winter jewelry collection.
I attended the opening of the Kendra Scott store three years ago and still love the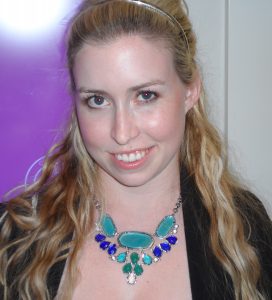 custom necklace I designed, so I'm looking forward to shopping the fall collection on Oct. 12.
RSVP to Amanda Warner at [email protected] or (714) 352-3406 by Monday, Oct. 10.
To learn more about MOMS Orange County, visit momsorangecounty.org.
For more information on Kendra Scott, visit Kendra Scott.com.
Exclusive Pop-Up for Your Home
If you're in need of some home decor to spruce up your home for fall, West Elm at South Coast Plaza can help.
West elm is hosting an exclusive pop-up of the home décor store 6th and Detroit and modern plant shop Peacock & Co. on Sunday, Oct. 9 from 1 to 5 p.m. at West Elm South Coast Plaza. Michelle Qazi, owner of the 60s and 70s inspired home decor store 6th and Detroit, will be hosting this special event which will feature both her vintage furnishings and decor alongside modern potted plants, macramé plant hangers and glass terrariums from Peacock & Co.
The events address is 3333 Bear St #231, Costa Mesa. To check out some of the designs ahead of time visit www.6thandDetroit.com.
Meet-and-Greet the Designer
If you've ever wanted to meet the woman behind the clothes, Rebecca Taylor will be doing a meet-and-greet on Friday, Oct. 7 from 12:30 to 2:30 p.m. at her Fashion Island location. Check out what the new fall 2016 collections have to offer and maybe get some great fashion tips from the woman herself. You can RSVP to [email protected].
Spiced Cider Facial
Fall is here, which means it's time for spiced cider—on your face!
Facialworks on Westcliffe Drive is offering a Spiced Cider Facial, which they say is "a delicious blend of an Apple Orchard Enzyme and Autumn Spice Hydrating Masque. Malic acid gently exfoliates and apple extract gives the skin a high dose of vitamin C. Nutmeg and cinnamon soothe inflammation and are antibacterial for the skin, while mangosteen and honeysuckle are nourishing and anti-aging." The process is finished with a signature Facialworks oxygen infusion and moisturizers.
A 50-minute bar facial is $60, while a 50-minute facial in a treatment room is $110. Call (949) 877-1911 or visit TheFacialWorks.com.