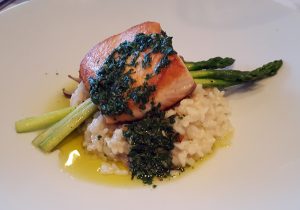 By Christopher Trela & Catherine Del Casale | NB Indy
 We always look forward to attending musicals at Segerstrom Center because it means we get to enjoy a special themed menu at Leatherby's Café Rouge.
Chef Ross Pangilian has been creating these special menus for several years, but he departed Leatherby's last month to open his own restaurant in downtown Santa Ana called Mix Mix (in the space that formerly housed Little Sparrow restaurant), which we'll write about once it opens later this year.
Leatherby's is welcoming a new chef: Greg Stillman, who has worked at Catal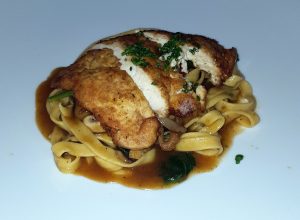 Restaurant, Naples Ristorante e Pizzeria, Napolini and Uva Bar in Downtown Disney, and spent time with Thomas Keller at The French Laundry in Napa. He's also held executive chef roles at the Hollywood Bowl and Patina Catering.
Despite the loss of Chef Ross, Leatherby's is still offering a themed menu for "Beautiful: The Carole King Musical" that runs at Segerstrom Center through Oct. 16.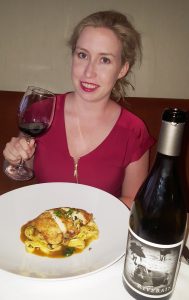 As usual, the dishes are named after the show's musical numbers. We started with the "On Broadway" Manhattan clam chowder and "Take Good Care of My Baby" Caesar salad, followed by "Some Kind of Wonderful" chicken breast with house-made noodles and "It's Too Late" Scottish salmon with risotto and asparagus. Dessert was "I Feel the Earth Move" pineapple upside down cake and "You've Lost That Loving Feeling" sorbet.
Not surprisingly, the dishes were all well-prepared, with the salmon cooked particularly well, yet our taste buds were hoping for more diversity and fun, which is what Chef Ross always brought to the table. However, we have no doubt that Chef Stillman will soon put his culinary mark on the menu.  
We brought a bottle of 2013 Riverain Syrah to enjoy with dinner, courtesy of Newport Beach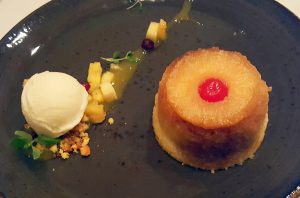 residents Laurie and Dean Gray, co-owners of Riverain Winery in Napa.
After dinner, we strolled next door to Segerstrom Center to experience what we agreed afterwards was one of the best shows of the year: "Beautiful: The Carole King Musical."
The show's synopsis: Long before she was Carole King, chart-topping music legend, she was Carol Klein, Brooklyn girl with passion and chutzpah. She fought her way into the record business as a teenager and, by the time she reached her twenties, had the husband of her dreams and a flourishing career writing hits for the biggest acts in rock 'n' roll. But it wasn't until her personal life began to crack that she finally managed to find her true voice. "Beautiful" tells the inspiring true story of King's remarkable rise to stardom, from being part of a hit songwriting team with her husband Gerry Goffin, to her relationship with fellow writers and best friends Cynthia Weil and Barry Mann, to becoming one of the most successful solo acts in popular music history.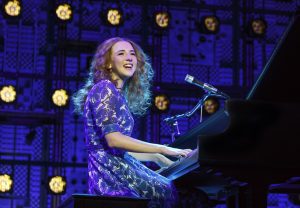 "I wasn't sure what to expect with the show," admitted Catherine. "The flow of the show was seamless. The singing was amazing, allowing you to hear hits as performed by the composers as well as the artists that actually ended up singing them. The story line was woven throughout with humor, depth of character, and compassion. I was extremely impressed with Julia Knitel, who played Carole King. Every time she sang I would get goose bumps not only from her voice and the lyrics but how I came to understand the meaning of the lyrics and what experiences King and lyricist, Gerry Goffin, pulled them from. This show is a must-see; it is inspiring, sad, and uplifting all at the same time. I grew up listening to Carole King and after the concert went straight to my CD collection so I could enjoy the music again."
For info on Leatherby's Café Rouge, visit PatinaGroup.com.
For tickets to "Beautiful," visit SCFTA.org.