With all the accolades for its sensational "Cuisine of the Sun" that celebrates foods from the French Riviera, you'd think that the popular Fig & Olive restaurant would have a cookbook. Well, now they do.
"Fig & Olive: The Cuisine of the French Riviera," is now available in collaboration with renowned publishing house, Assouline.
Penned by Fig & Olive founder and owner Laurent Halasz, who was raised in the south of France about five miles from Cannes, the cookbook contains recipes and photos of signature dishes and recipes based on Laurent's mother's simple style of cooking that inspired his dishes, which include market-driven ingredients and olive oils in place of butter or cream
"The best cooking is like my mother's: simple, fresh, flavorful, and colorful on the plate and on one's palate," says Halasz. "Similar to an evening at our home in Mougins, we hope readers enjoy these recipes with their family and friends, and use them, just like my family has enjoyed for years, to gather with loved ones around the table."
In the cookbook, Laurent offers insider's tips, from simple techniques and seasonal ingredients to pairing the right olive oils with each dish.
The book includes more than 60 simple recipes, including the restaurant's signature zucchini carpaccio, fig & gorgonzola tart, whole branzino with rosemary, and green apple and olive oil sorbet.
Fellow Indy writer Shelly Zavala attended a media tasting and cookbook launch party earlier this month, and filed this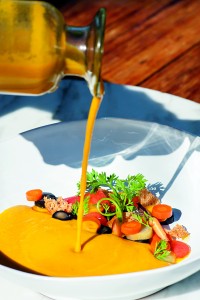 report:
"Laurent Halasz attended the event, and shared with me his stories of frequenting local French Riviera markets with his mother Francine, and how they would use olive oil as the base for all their dishes. This cookbook is not only full of delightfully favorable recipes but beautiful photos that show off the food as if you could eat them off the pages."
Naturally, any visit to Fig & Olive involved dining.
"I started with the chestnut and butternut squash soup followed by sea scallops papillote with citrus and chives.  Both these dishes stood out as fresh, light and yet so full of flavor, the word 'mmm' kept creeping out of my mouth.
Following these two courses was a roasted veal filet mignon with rosemary and braised endives.  Simple and delicate, the use of herbs made this dish stand out as a must have. Still having room for dessert, I enjoyed the simple flavors of the poached pear in spiced orange juice with light whipped mascarpone.
Each dish was paired with wonderful wines to compliment the dishes such as Vermentino – Cote D'Azur, France 2014 and Gernacha – Valserrano, Spain, 2008.
The Fig & Olive tradition of using the flavor of olive oil, farm-to-table menu items, and the simplicity of the love for family and food stood out throughout the evening. If you truly want to enjoy the French Riviera in your own backyard, it's there at Fig & Olive."
"Fig & Olive: Cuisine of The French Riviera" is available for purchase at assouline.com and on the Fig & Olive website at FigandOlive.com. The 160-page book retails for $50, and makes a terrific Christmas gift.