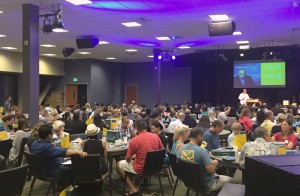 Mariners Church is offering a nine-week Financial Peace University class beginning January 20.   It's the perfect class to help with New Year's resolutions of improving financial situations.
"When it comes to managing your finances, you don't fear what you know," explained Eric Heard, Pastor of Stewardship and Men's Ministry at Mariners. "Knowing what you have and knowing what it takes for the future brings peace. Most people do not manage or check their accounts; they just hope for the best. But Dave Ramsey believes that knowledge sets people free.  And people can get that knowledge at Financial Peace University."
Financial Peace University presents biblical, practical steps to help people manage their money and learn how to move from where they are presently financially to where they'd like to be. Through video teaching, teaching, class discussions and interactive small group activities, participants learn how get rid of debt, manage money, spend and save wisely, invest for the future and enjoy giving. Other topics covered include insurance, retirement, college planning, real estate, and mortgages.
According to the Financial Peace University website, "The average family pays off $5,300 in debt and saves $2,700 in the first 90 days following the principles."
"We took our staff through the class last spring," Heard explained. "We felt that was important if we were going to ask our congregation to. We invested time and money to get our staff in financial peace. That's why they named it what they did, because when you manage money using God's principles, it brings an incredible sense of peace to your life and positions you to be generous. It costs $99 per membership kit, but it's worth that and more. The staff also spent two hours a week for nine weeks."
"Then we offered it to our church and had 221 people go through it," he continued. "We just got all the statistical data back from it and it's awesome. The results show exactly why we do it. Ninety-seven percent of the people surveyed said it brought a positive change in the way they handle finances and it lessened marital stress. There were so many great stories and so much new freedom."
Heard said that at the beginning of the class, the group participates in what is called a financial reality check.
"The group was more than $5 million in debt and they only had $1.4 million in liquid cash, so even if they cashed out everything they were still $3.5 million dollars in debt," he said. "They also had over 422 credit cards, but after the class, they doubled their income and got rid of $300,000 in debt.  Being in debt is like carrying an extra couple hundred pounds on your body.  Unfortunately, the whole financial community is geared for debt; you see it on commercials empathizing a good FICA score. But why do I need to have a good score if I don't borrow money?"
"Dave is probably the most recognized financial counselor in the nation and he's on over 500 radio stations," Eric added. "He uses the tag line 'Live like no one else does so when you get old, you can live like no one else does.' If you're wise financially, you're set and you're not dependent on the government. Class is open to anybody from any background or faith. It's learning proven principles, which just happen to be biblical. There are no sermons."
Financial Peace University starts Wednesday, Jan. 20 from 6:45 to 8:45 p.m. Membership kits are $99 per individual or couple, and paid childcare is available. For more information, visit marinerschurch.org.
Cindy can be reached at [email protected]