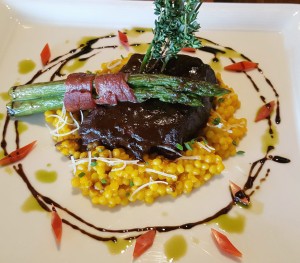 By Christopher Trela & Catherine Del Casale | NB Indy
How much food can we eat in 14 days?
That's a question we always ask ourselves during Newport Beach Restaurant Week, which starts January 18 and runs through January 31.
More than 60 restaurants are participating this year, from small bistros such as Slapfish and Tackle Box to upscale notables such as Fig & Olive, The Ritz Seafood and The Winery Restaurant and Wine Bar.
Prix fixe lunches are $10, $15, $20 or $25, while prix fixe dinners are $20, $30, $40 or $50.
The idea is for restaurants to entice new customers to try some signature dishes at a good value, thereby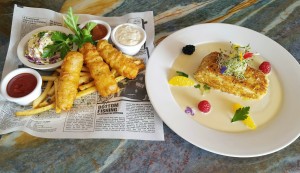 encouraging them to return again later.
We perused most of the Restaurant Week menus that were posted on the Dine Newport Beach website (DineNB.com) earlier this week, and selected some of what we felt were the most interesting and best value menus–although most restaurants were indeed showcasing their best dishes at reasonable prices.
A few menus included surcharges for upgraded entrees or desserts, which we felt took away from the spirit and concept of Restaurant Week (but we admit the upgrades are worth the extra cost).
Our favorites:
Red O: $20 lunch with appetizer, entrée and dessert. A fantastic deal, we'd order the duck taquitos or tamales, and the enchilada entrée. Also a $50 dinner, which can be a bit pricy but one of the entrée options is the filet mignon, which Catherine loves.
Tackle Box: $10 lunch. Located at Corona del Mar beach. Soup or salad, sandwich or fried fish, and a drink. Great value.
Dori Deli: $10 lunch. Salad or soup, sandwich or chicken pesto. Good value.
Hopdoddy: $10 lunch. Choose a signature burger (which has a value of more than $10) plus fries or a shake. Great value, great burgers.
Tommy Bahama: $25 lunch. Lots of choices, includes starter, entrée and dessert. We've dined here, it's high quality food, and for three courses, this is a good value.
Pelican Hill Resort: All three of their restaurants are offering $25 lunches, and based on their reputation alone (and the fact that we love dining here), we'd go just for a relaxing afternoon repast.
Muldoon's: $20 lunch. Includes soda bread, starter, entrée, and dessert. A great value, and we love Muldoon's.
Cruiser's: $15 lunch for one per person, $30 for two. Similar menus, but more options for two people. Includes starter and entrée. One of Catherine's favorite pizza purveyors.
Bungalow: $15 lunch. Anytime you can have lunch at The Bungalow for $15, that's a good thing. Choose a first course and entrée.
Sushi Roku: $40 dinner. Start with appetizers from the sea or farm, entrée, and dessert. Good value, considering Sushi Roku is a fine dining experience, and they offer options.
Bayside: $25 lunch. Choice of appetizers, entrée and dessert. A great value, especially for Bayside.
Campus Jax: $10 lunch. From the folks behind JackShrimp. Get a starter and entrée, similar to what the old restaurant used to serve.
CUCINA enoteca: $30 and $40 dinners. Lots of options depending on which price you pick, but we've dined here several times and love their food.
Fly 'N' Fish: $20 lunch, $40 dinner. Some of the best seafood around.
Fig & Olive: $25 lunch. Includes soup or salad, entrée, plus dessert. A great value.
Provenance: $20 lunch and $40 dinner. Great variety of options, choose starter, entrée and dessert.
SOL Cocina: $15 lunch. Great food, especially for this price.
Roy's: $15 lunch. Includes beverage, appetizer, entrée, and dessert. Another great value.
The Winery: $50 dinner. It's pricy, but what great food. Choose between three starters, several entrees (including the signature short ribs with prosciutto wrapped asparagus) and dessert. Classy restaurant, great experience.
Waterline at Balboa Bay Resort: $40 dinner. Choice of two appetizers and two entrees, plus dessert, but for an extra $6, order the foie gras and huckleberry macaroons—they are awesome!
For complete menus of all the restaurants participating in Restaurant Week, visit DineNB.com.