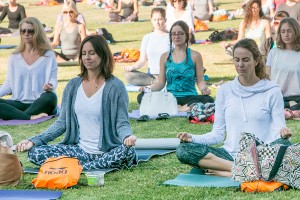 Most of us are so busy paying our bills, returning emails and trying to catch up from that lack of sleep that we end up disconnecting from what is truly important.
Can you imagine taking a day to yourself where you are embraced with the concepts of healthy living, mindfulness, consciousness, and the importance of relationships? I did that last Saturday.
I have attended and also taught at many workshops and seminars over the years, yet was thrilled with the expertise of the speakers, the exceptional topics presented and the attention to detail in the day-long Mindful Her event in Laguna Beach, presented by Mindful Her founders Kelly Lam and Joanne Forster.
I felt re-energized as I was pampered by the well thought out retreat with every little detail taken care of.  I was impressed with all meals being provided, which went way beyond the breakfast muffin to include Sambazon acai berry bowls and a healthy "happy hour" with sushi for dinner.
Because we're often on the run and do not take the time for ourselves that is needed for our well-being, having all the little details taken care of felt wonderful and nurturing.
The Mindful Her event reminded me about what is truly important: knowing how to be the best version of ourselves.
It is so easy to get off track, to get distracted by the external things, the shiny things. It is about coming back to learning new concepts to enhance our own and others lives, to enjoying and inspiring others, remembering what is important and contributing to the world.
Even though I teach mindfulness and authenticity, at times I get distracted. Often, just being tired makes me shrink my world and then I spend too much time in my head, leading to over thinking. How many of us can relate to that?
Overthinking is one of the most dangerous and destructive ways to be in the world, as this distracts us from ourselves and from others, and most of the time has little to no benefit.
Overthinking tends to take us to resistance of what is. As Eckhart Tolle says, "What we resist, persists." So true.
What is really important is the journey to who we are at the core of ourselves, not what is on the outside. The outside will sort itself out when we come from our authentic selves.  Coming from the inside does not promise no pain in our lives, but it does connect us to what is authentic in our response to that pain which leads to less suffering.
We are reminded constantly from the media to focus on the outside, that we will be happier, will find the perfect partner that is where happiness exists.
You've probably heard this many times, but really until you get the inside right, the focus on the outside will only create temporary relief, happiness and success.
Mindful Her is all about working from the inside out, enhancing the relationship with self, relationships with others that are like minded and bring out the best in us.
It does take time each day to bring ourselves back to what is important yet this only takes a moment of mindfulness. It's a simple practice of:
Taking a deep breath,
Grounding yourself through feeling your feet on the ground and
Listening to our intuitive selves.  (This can be done through meditation, prayer, being still, journaling, listening to the higher self, or yoga, just to name a few).
The intuitive self has more answers than you can imagine of how to connect to self and others, what is authentically you and what the body needs.  Once this is a habit, it will become automatic but can be uncomfortable in the beginning. This is the best way to be in the world because you are being authentic, transparent, real, genuine and connected.
Mindful Her retreats are centered around these concepts along with giving back to the community through an organization called Global G.L.O.W. that assists young girls in creating leadership skills.  It was wonderful to see these young girls get a head start in being truly connected and confident in themselves.
This was an intelligent, open minded, global conscious group of women who truly wanted to connect, inspire and contribute, and well worth the time to attend. For more information, visit the website MindfulHer.com.
Contact Dr. Zavala at [email protected] or DrZavala.com.