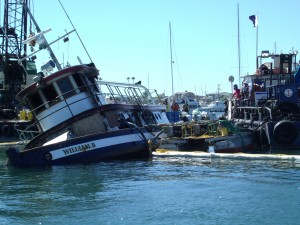 Over the years there have been many fires aboard locally berthed yachts, and I always find it very sad when the yachts are one-of-a-kind or owned by noteworthy users.
Frank Sinatra's yacht, Christina, named after his daughter, off and on berthed at the Bay Club, and a Linda Isle resident's 82-foot custom Solar Wind built by Peter Rothschild, are two that come to mind.
Tugboat William B, under salvage by Muldoons Diving out of Long Beach, is a very sad addition. For 30 years owner Gary Hill has painstakingly had a hired hand work 40 hours a week to maintain and restore the former Columbia River lumber barge work horse.
The 60-plus year old gem appeared on the outside to be in pristine condition. It reminded me of our 38-foot family tugboat built in 1906 at Fellows and Stewart in L.A. Harbor. The Walrus was the South Shore Shipyard tug for 40 years (or so) until closing and formerly a commercial fishing vessel.
My Dad and older brother restored her at Goat Hill Shipyard adjacent to Pomona and 16th Street and the building is still standing but a much different entity. Like the William B, she was also berthed on a Newport Harbor Yacht Club mooring and in better than new condition.
Our hearts go out to the Hill family who have operated a Newport Harbor business and boated in the community they live in for the last 65-plus years.
Sea Ya,
Skipper Steve