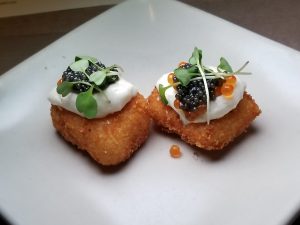 Chefs love fall. It's the time of year when they transition out of summer menus and create a bevy of new dishes with produce that's come into season.
Executive Chef Alejandra Padilla certainly loves fall. She just unveiled her new seasonal menu, and it's loaded with a culinary homage to fall.
I dined at Five Crowns last week to try the new fall menu, which ranges from such small plates as foie gras donuts with pomegranate jelly and sea salt to a fall mushroom soup to duck breast and rainbow trout.
Of course, Five Crowns will always have its signature prime rib available, but my mission was to tempt my palate with fall flavors.
I started my fall experience with one of six seasonal cocktails: a Whiskey Peat with Templeton rye, chrysanthemum Drambuie, Fernet Valle, Laphroig, and Angustura bitters ($15). It reminded me of a smoky Manhattan, and I enjoyed every sip.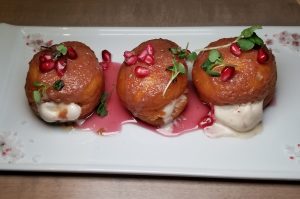 For a first course, I had to try the foie gras donuts ($29). They came three to a plate, nestled on a bed of pomegranate jelly, stuffed with a decadent foie gras mousse and topped with pomegranate seeds. They quickly disappeared from my plate.
I also tried the potato croquettes ($16) with horseradish crème fraiche and topped with trout roe and caviar. It was a perfect combination of ingredients, with the roe and caviar offering fun textures that dance in my mouth with the crispy croquettes.
The fall mushroom soup with charred scallion oil ($12) was more of a bisque then mere soup and practically screamed fall.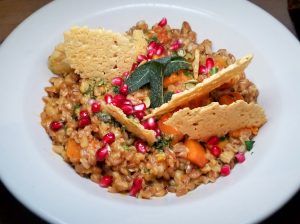 But it was the squash & farro ($26) with risotto-style farro, butternut squash, parmesan, sage, and walnut pesto with pomegranate that got my attention. It's a hearty dish with a perfect combination of flavors and textures.
Chef Padilla came out from the kitchen to tell me about her inspiration for the fall menu.
"I wanted to do a totally different take on foie gras. At first I thought foie gras cupcakes, then donuts, and started to explore what to use as a filling. The farro and squash is in season, it's warming with a really nutty flavor from the toasted farro. It's sweet and creamy. We added butternut squash puree which really infuses the dish with squash flavor."
Chef Padilla told me the fall dishes will be on the menu through the end of the year, although she'll swap out the duck for a traditional goose dinner with chestnuts and wild rice.
Chef Padilla even added new fall desserts ($12 each): Espresso crème caramel with hazelnut cookies, dulce de leche, chocolate sauce; apple sticky toffee pudding with walnut crumble, roasted apples, and whipped mascarpone; and pistachio cheesecake with chocolate wafer crust, raspberries and toasted meringue.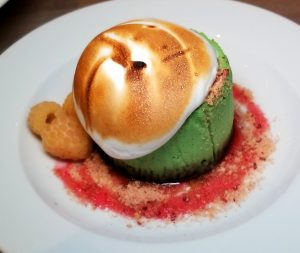 I opted for the pistachio cheesecake, and was glad I did. The pistachio flavor was front and center but not overwhelming, and the toasted meringue paired perfectly with the cheesecake. Despite being full from dinner, I managed to finish every bite.
A side note: a basket of bread is served warm, and the butter served soft—a perfect combo.
Chef Padilla marks her one-year anniversary with Five Crowns in a few weeks, and she reminded me that Five Crowns is bringing back its famous holiday carolers and décor starting in early December.
Five Crowns is also bringing back its traditional Thanksgiving dinner and Christmas Eve dinner, both featuring prime rib and signature sides.
There also may be a few seats left at the Silver Oak dinner on November 9. The cost is $175, and includes a reception with tray passed appetizers and a four course dinner paired with wines from Silver Oak and Twomey Cellars. The star dish of the dinner is a Beef Wellington with bone marrow bordelaise.
For reservations and more info, call (949) 717-4322 or visit TheFiveCrowns.com.