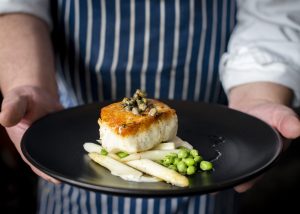 By Christopher Trela & Catherine Del Casale | NB Indy
 Five Crowns restaurant has become more and more interesting since the local culinary icon celebrated its 50th anniversary two years ago.
From bold new menu items to boutique wine dinners and unusual special events, Five Crowns has proven it's no longer simply a traditional special event restaurant.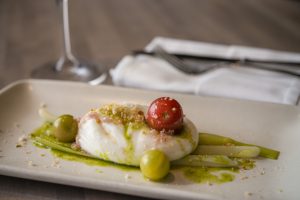 And where else can you sneak into a secret speakeasy and order a glass of absinthe (complete with sugar cube and dripping water), or sip a glass of fabled cult wine Screaming Eagle? True, it's $500 a glass, but Five Crowns is probably the only restaurant in town that pours it by the glass (you can also get a 2 oz. pour for $175).
So, when Five Crowns invited us to a media tasting of Executive Chef Steve Kling's spring menu, plus specialty cheeses and charcuterie, unique cocktails and interesting wines, we naturally said yes.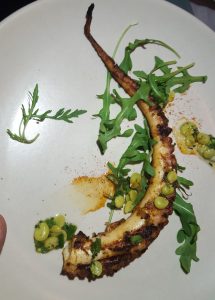 Kling's new menu items include buratta and grilled baby leeks, grilled octopus, potato leek soup, Norwegian halibut with white asparagus and English peas, morel mushrooms and artichoke risotto, and a panna cotta dessert.
We had several small tastes of each dish, and as always, had our favorites.
"Even though Five Crowns is known for its prime rib, I loved the fish dishes," said Christopher. "And I'm a risotto fan, so the combination of mushroom and artichoke was perfect."
"I loved the new spring panna cotta dessert, which had a semi-sweet vanilla bean panna cotta topped with strawberries and placed in a swirl of rhubarb reduction," said Catherine. "The combination of sweet and tart was refreshing and was a great light dessert choice after a filling meal."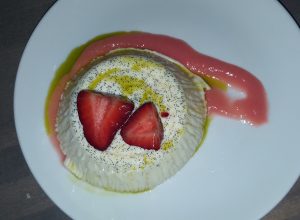 "If you aren't looking to have a large hearty meal, but would like to stop in for something on the lighter side to enjoy with a glass of wine or specialty cocktail, the potato leek soup with parsley oil, or the burrata and grilled baby leeks with a tomato vinaigrette and breadcrumbs are great choices," added Catherine.
We also sipped two specialty cocktails that we really enjoyed: The Spiritual Gangster with organic gin, amaro lemon lime, chamomile honey, mint and cucumber, and the Leche Libre with platinum tequila, lemon, lavender, iris liquor, and rose simple.
For more information on Five Crowns, visit lawrysonline.com/five-crowns.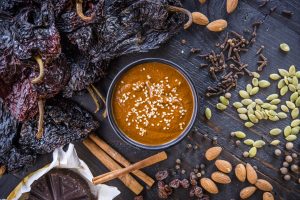 HOLY MOLE!
You've got one more week to enjoy SOL Cocina's annual Mole Festival, dubbed Moles & Mezcal.
SOL Cocina Executive Chef Deborah Schneider has cooked up a handful of mole specials that run through the end of March, while SOL Beverage Director Colin Pflugradt has created hand-made artisan mezcal cocktails.
"We introduced this mole festival last year and it was met with rave reviews, so we had no choice but to follow it up this year with a month-long event that allows our guests to try unique moles and mezcal-based cocktails," says Chef Schneider, who is a James Beard Award-nominated cookbook author whose next book, Williams Sonoma Rustic Mexican Cooking, will be coming out in May.
Her most recent cookbook, "Salsas and Moles," is a collection of 60 authentic salsa and mole recipes.
Featured mole specials served during dinner include mole verde with shrimp-stuffed California squid, duck mole manchamanteles and a corn poblano tamale, border chile colorado con carne, and mole negro on stuffed chicken breast.
Featured mezcal cocktails include blackberry basil with vida mezcal, muddled fresh berries, and basil with fresh lime juice and agave nectar, and pomegranate cinnamon with kimo blanco mezcal pomegranate juice, lime, agave nectar, blanco mezcal & tequila in a cinnamon rimmed glass.
For more information, visit solcocina.com.